Cloud-based CRM vendor, RightNow, recently released new service terms giving its customers greater license and pricing flexibility. While not revolutionary, these terms challenge other vendors to simplify their pricing and licensing policies.
This graphic summarizes the new Cloud Services Agreement, which is accompanied by a new order form: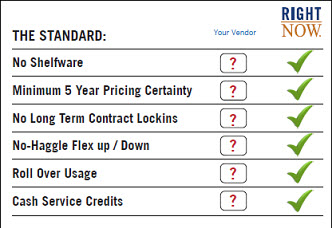 RightNow describes the new terms and conditions as, "[T]he industry's first transparent, flexible contract that enables clients to take full advantage of the cloud."
To dig behind this hype, I spoke with Amy Konary, IDC's Research Director for software pricing, licensing, and delivery. Amy was one of the first SaaS analysts and remains a top expert in these issues.
The video below explains the significance of RightNow's new Cloud Services Agreement; here are key points:
We should understand the agreement in historical context, including the intersection of software as a service with utility-style, telecommunications pricing.
RightNow's new terms are not a significant departure from license policies offered by other vendors over the last decade. However, they offer greater transparency around licensing terms and increased pricing flexibility. Clearly, this is beneficial to customers.
Questions remain around the impact of these changes on RightNow's ability to generate sustainable and predictable revenue at a level required to operate their own business profitably.
Perhaps most importantly, RightNow's announcement forces other cloud, and especially on-premise vendors to consider how they price and sell software.
This video offers a ten-minute education on software pricing and licensing, and explains the importance and limitation of RightNow's announcement. I urge you to take a few minutes and listen: