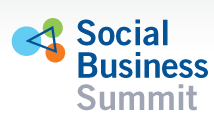 We have just wrapped up a very successful Social Business Summit in Austin. The day was packed with great speakers and we are grateful to each and every person who came out to the event.
The good news is that there are still 3 more opportunities to get connected with other Social Business Design thinkers. There are two more of our Social Business Summit's, one in London and one in Sydney, and there is also Social Business Edge coming up in New York, which Dachis Group will be sponsoring.
Social Business Summit London has a fantastic lineup, including JP Ragaswami and our own Jeff Dachis.  There are a few spots left for the London summit, which takes place tomorrow (Thursday March 18th 2010). You can get your ticket here as long as there are some remaining.
Social Business Summit Sydney, which takes place on March 25th 2010, promises to be equally practical and focused on a dialogue about what Social Business Design means in practice. Speakers include our CEO Jeff Dachis, Robin Hamman and practitioners such as Kate Carruthers, Karli Furmage (ex Gloria Jean's) and Annalie Killian, Catalyst for Magic, AMP.
Social Business Edge is a conference we will be sponsoring in New York on April 19th 2010. Social Business Edge is being directed by Stowe Boyd and features speakers such as Lee Bryant, Sarah Kennon, Dion Hinchcliffe, Euan Semple, John Hagel, Joshua-Michele Ross, Venessa Miemis and many others. You can find out about the lineup and registration here.
Three more opportunities to engage in-person and discuss Social Business Design on 3 continents in the next 2 months. I hope to see you at one of these events, and if you are going, please feel free to leave a comment below to connect with others who will also be there.