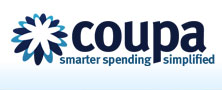 The most important functional announcement in Coupa's latest release (you can read the first post in this series here) is a new expense reporting capability designed to provide organizations with an integrated system to help capture, in Coupa's words, "all non-payroll spend." Spend Matters' research suggests that this claim is a bit of an exaggeration because Coupa has not yet targeted direct and services spend–nor do they offer spend analysis, sourcing, and contract management tools to manage the supplier/spend lifecycle. But from a basic execution, capture, and reporting standpoint, Coupa can now legitimately claim that their system supports the key requisitioning and T&E lifecycle elements for two key spending areas. As I demoed Coupa's latest release, what became clear is that they had thought through the key process flows from a T&E perspective and all of their key linkages into the procurement process.
For example, under an eProcurement system, just as an employee, in Coupa's words "submits a requisition and a manager approves or denies it" and an "employee shops and buys, files an expense report," and then it goes to a manager in a T&E system. The specific elements of the process and approval flows each bring their nuances and appear different onscreen to users, administrators, and managers, but both efforts end up really capturing two sides of the indirect spending coin.
Coupa makes a strong argument in saying that some of the challenges of expense management are actually quite similar to those with eProcurement. Considering that without the proper systems controls in place, many companies end up with an indirect procurement environment with low adoption and poor controls/compliances just as they end up with an expense management environment that is challenging to audit, cumbersome to use, and fraught with high levels of non-compliance (and even abuses and fraud, in certain cases). Moreover, most organizations, especially small and middle-market companies, have no basis with which to compare their eProcurement and T&E spending performance in relation to a market benchmark.
But with Coupa's latest release, a real-time benchmarking capability is included. While I've previously criticized the relevance of this approach as a catch-all benchmarking nirvana (because Coupa is comparing spend from highly varied organizations and not offering size or industry cuts), from a T&E perspective, some of the comparison details may still prove quite useful…