As of today, I've been writing this blog for five years. My first post was on BPTrends' 2005 BPM Suites Report, and I'm still pretty focused on BPM, although have branched out to cover a wider variety of Enterprise 2.0 and collaboration topics as well. In the beginning, it was just labeled as my business blog and hosted on a subdomain under my corporate domain, although within the first month, I talked about how I'm a "column 2" sort of girl, and a month later, rebranded as Column 2.
Since then, I've written about 2,000 posts: that's more than one per day on average, although that includes about 550 posts consisting of links and my comments on those links, auto-generated from whatever I save on Delicious that day. Not considering those posts, I've still managed to post more than once per weekday on average: a count that is badly skewed by my live-blogging at conferences, where I post several times per day. I've had over 2,000 comments on posts, or about one per post: not a great level of conversation overall, although we've had some lively discussions. In total, I've written over 600,000 words.
I average 400-500 unique visitors (600-700 page views) per weekday, with peaks of two or three times for events such as the Oracle BEA strategy briefing and IBM layoffs. Posts can remain popular over time: the Oracle BEA post totaled 4,500 page views (although not on the same day). I also have another 1,800 readers who are subscribed to the RSS feed, likely not visiting the site directly since I publish full feeds. That doesn't make Column 2 exactly a prime internet destination, but most people are a bit surprised that I have 2,200+ daily readers on a relatively niche topic.
My presence on Twitter (which has just passed the 3-year mark) may have slowed my blogging a bit, but a broad spectrum of social media participation is a must for independent consultants these days. In fact, Twitter has probably increased my blog readership since FeedBurner auto-tweets each blog post when it publishes: Twitter is my second-largest referrer site, after Google.
I don't get paid to blog, except for the small fee that Intelligent Enterprise pays me when they republish some of my posts, and the bit from the Google ads on the site that just covers my hosting fees. Vendors who invite me to their conferences (and pay my expenses while I'm there) obviously get more coverage while I'm blogging at the conference, as do vendors who are my clients since I'm more familiar with their products, but the opinions written here are my own, and no one has any editorial review or control over my content. In fact, it's pretty common for me to see the PR/AR/marketing people at a vendor conference checking their mobile devices to see what I just wrote about their company, since they don't see it in advance.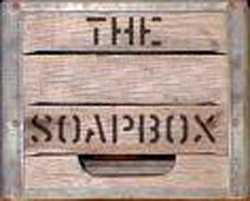 Blogging has given me the best soapbox ever on which to stand and voice my opinions: as an extroverted introvert, it's the perfect blend of public discourse and private contemplation for me. As an independent working mostly from my home office, blogging provides me with a way to engage with BPM vendors and practitioners that would just not be possible face-to-face. I am asked to speak at conferences and review products because of what I write here; in fact, most of my professional engagements start with someone saying "I read your blog, and I'm interested in working with you". I've also had the opportunity to meet many of my readers and fellow bloggers at conferences; these are opportunities that I would have missed were it not for blogging. My blog also serves as an online portfolio and history of my ideas, so that I can show, for example, that I was talking about social BPM and process wikis in 2006, a few years ahead of those who claim to have first written about it.
Writing a blog is not for everyone – in fact, some days it's not even for me

– but blogs have become an essential part of online reading for any business or technology professional, rather than just seen as rants from the fringe. And although I sometimes resort to a bit of ranting, I like to believe that I'm adding value to your research on a variety of enterprise technology topics.