While debate still occurs about whether consumer social networking is an effective model for how we should run our organizations in the future, one under-appreciated online phenomenon has been quietly and steadily remaking the very notion of business itself.
People have been joining online communities by the millions for years now for a variety reasons, including both business and pleasure. These increasingly massive and mainstream communities focus on virtually every subject imaginable including news (Slashdot & Digg), open source source (Sourceforge), photography (Flickr), enterprise software (SAP), business innovation (Innocentive), travel (TripAdvisor), retail products (IKEAFans, Best Buy Community), consumer electronics support (Fixya), Web design (Crowdspring), charity (Feed A Child With A Click), and countless others.
As an indicator of size, the charity in the previous list is one of the largest groups on Facebook, with nearly 6 million members. While consumer communities tend to be much larger than business-focused communities, some of the latter are nevertheless becoming quite large as well, such as SAP's 1.7+ million strong online community. Organizations are increasingly making larger industry plays using the community model, as we can see with the increase in investment into community-based talent management by Taleo just today for example.
All of these communities are focused on some kind of common objective: Attracting like-minded people highly interested and engaged in what they do. It doesn't take long before the question that is being raised more and more often in the business world is asked, namely "how can we enlist such a community for our needs?" Naturally, the motivations, incentives, and rewards for creating a successful community based on business objectives is usually very different from a pure-play consumer community. Yet, the tools, techniques, and concepts between the two remain largely the same.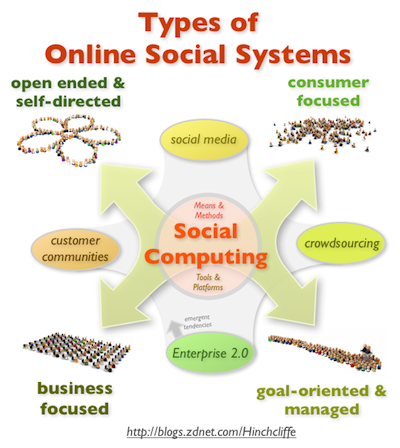 Alongside this phenomenon and running almost parallel is a very closely related topic. This is the trend of companies looking at using community approaches internally, where the discussion of Enterprise 2.0 is currently the focus. Intriguingly, as you can see above, all of these community trends are actually part of the overall emergence of social computing as a driving force on the Web and increasingly in business.
As we see a growing set of examples of successful online communities in the enterprise space (both internally and externally), the broad outlines are emerging of what is turning into a vital new channel for innovation, business agility, customer relationships, and productive output for most organizations: Online communities as one of the most potent new ways to achieve business objectives, both in terms of cost and quality. As I've explored in detail previously, if you create the proper environment that encourages it, people on the network will help you think of it, design it, build it, test it, and support it, whatever "it" is.
It's a fundamental change in the way we look at how the workplace functions and it increasingly appears that social tools will usher this change in for many organizations. That's not to say there aren't still plenty of skeptics, yet the growing evidence, including many of the better commercial examples such as Crowdcast or LG's community-based phone design effort, speaks for itself.
Online communities: What's really new?
Online communities themselves are actually a bit long in the tooth, having been around since computer networks first originated in the 1970s. Since then they have been reinvented in each successive medium including bulletin board systems, news groups, dedicated Web sites, Facebook groups, and to whatever comes next. On the surface, they can seem unruly and unfocused, yet clearly thrive with activity and purpose. Unfortunately, it's sometimes far from clear whether the signal-to-noise ratio of hundreds of thousands of self-interested participants can be brought together to achieve any real goal. But, as we're beginning to see with Social CRM, enterprise-class crowdsourcing, and prediction markets, there are now in fact workable ways for companies to engage and collaborate with large groups of people that greatly outnumber their workers.
Related: Community Management: The 'essential' capability
While it's certainly true that the tools and platforms that enable online communities have not only greatly improved in the last several years but are now readily accessible by any business today, large or small, the real change that's driving the adoption of online communities appears to be 1) that a significant and growing percentage of the online world now expects to be able to engage with a company online using social tools, and 2) organizations are increasingly understanding that there are tangible benefits to social computing and that it's not just an overhead cost…