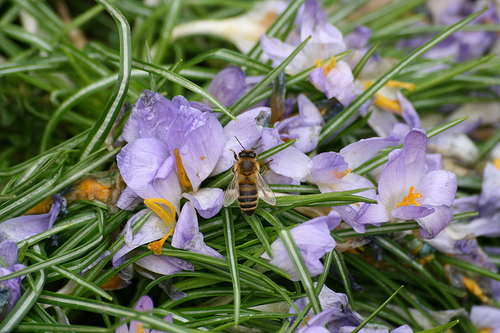 Over the weekend out with the camera I came across this little guy working away and I realized it's been quite awhile since I've heard anymore about the issues with "bees" that we are having. Do you remember those issues?
CCD is still an issue and has not gone away and frankly if you have a read on the net not many have come to an agreement on what the problem is.
From 1972 to 2006, there was a dramatic reduction in the number of feral honeybees in the U.S. (now almost absent);[16] and a significant, though somewhat gradual decline in the number of colonies maintained by beekeepers. This decline includes the cumulative losses from all factors such as urbanization, pesticide use, trachealand Varroa mites, and commercial beekeepers retiring and going out of business. However, late in the year 2006 and in early 2007 the rate of attrition was alleged to have reached new proportions, and the term "colony collapse disorder" was proposed to describe this sudden rash of disappearances.[2]

Limited occurrences resembling CCD have been documented as early as 1896,[7][17] and this set of symptoms has in the past several decades been given many different names (disappearing disease, spring dwindle, May disease, autumn collapse, and fall dwindle disease).[18] Most recently, a similar phenomenon in the winter of 2004/2005 occurred, and was attributed to Varroa mites (the "Vampire Mite" scare), though this was never ultimately confirmed. Nobody has been able to determine the cause of any past appearances of this syndrome. Upon recognition that the syndrome does not seem to be seasonally-restricted, and that it may not be a "disease" in the standard sense — that there may not be a specific causative agent — the syndrome was renamed.[19]
In May of 2009, almost a year ago now was the last major update I found in mainstream media – it's almost has though many have decided it's not longer a big issue since the world has not "visibility" suffered from the problem "yet". Typical – out of sight out of mind.
In May 2009, NATURE Online asked Dennis van Engelsdorp, Pennsylvania's acting state beekeeper, to comment on recent developments in the investigation into Colony Collapse Disorder. Here's what he had to say. Check back later in May for a new report detailing colony losses in the U.S. for this past winter.
It's a very interesting article/interview so if you are concerned over the future as I am I'd suggest you take a moment and have a read through it.
Part of the focus during the interview was around a study done and published in February of 2009 where they "found the problem".  Dennis van Engelsdorp has a most brilliant answer to that…
But this "Oh we found the solution" sort of dilutes the pressure that exists to make sure we have the funding and resources we need to solve this problem. And we really do need to solve this problem.
It was obvious that this was not the cause so major points to the man for speaking up and calling it like it is!
PBS has done a great job of covering this topic including this film, keep your eye on them for more as they continue to dig into these issues.

Related articles by Zemanta