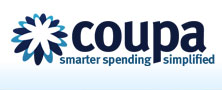 In this post, I'll continue my analysis of Coupa's T&E capabilities by walking through a typical submission and approval process (read Part 1 and Part 2 of this series here). I know this sounds like a deathly boring subject for many, but trust me, it's not as dry as it might seem, thanks to a few nifty features Coupa has incorporated into the process. Moreover, the intuitiveness of Coupa's T&E system makes up for current limitations (e.g., a lack of an integrated travel booking tool and more powerful reporting analytics based on drilling into different levels of p-cards and other information). So read on, even if you think this subject is about as interesting as geriatric senators conducting procedural maneuvers for their own devices — or passing healthcare reform for that matter. In fact, at least in my view, T&E is quite fascinating. And it's an area that procurement should take a greater interest in stepping up to the plate and owing alongside indirect and other spending areas.
How does Coupa T&E work? Having logged into the Coupa T&E environment and selected an item for submission from a list of recent transactions (or entering one in a free-form manner), the user then selects an expense category and an amount. At that point, the system may flag the expense–and in fact an actual flag-like graphic really does show up immediately–as pre-approved (or not). Coupa may also flag fields such as receipts for additional documentation. The labeling metaphor of flag or on-screen post-it may seem whimsical at first, but it's a far less painful way to provide information or ask a user for additional details. There's no reason in today's T&E age that users should need to wait to click a button to learn that additional fields or information is required.
Perhaps more useful, what's really at work behind the scenes here is a system designed not just around flagging information at the end of a T&E process to create additional work-streams for either users or managers, but to highlight potential non-compliance or discrepancies at all stages of the process, driving real-time transparency. To highlight this approach, during a demonstration of an expense submittal, Coupa walked me through an expense report that included a PC consumable, a LinkedIn job posting, and a taxi to the airport. The system automatically flagged the PC consumable, a battery, as a pre-approved expense based on a requisition and approval process within the Coupa eProcurement application. But it also raised a flag–a yellow post-it, in fact–showing that the $50 taxi expense to the airport in the same expense submission "seemed a little high."
According to Coupa, the system calculates a mean for different categories and expense types, giving out two standard deviations to create these types of calculations and flags.