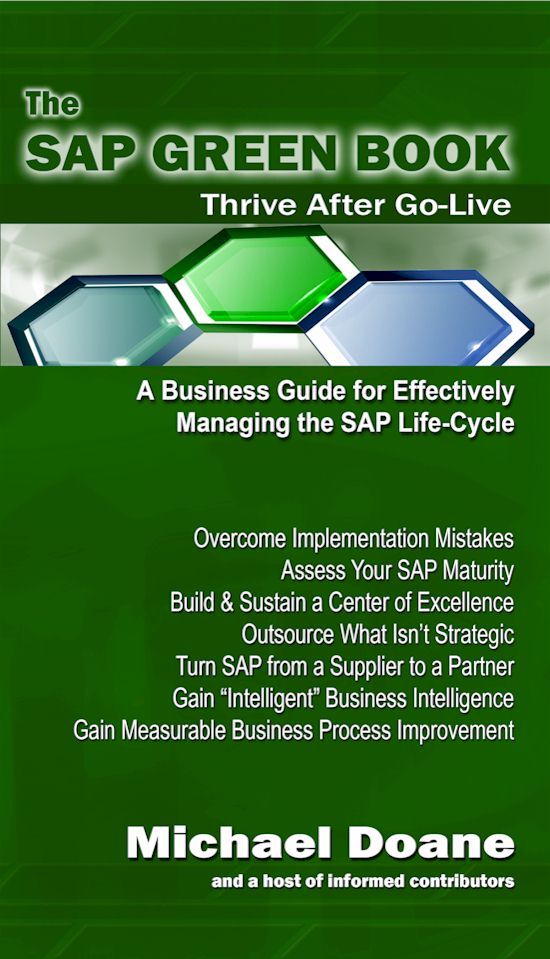 I don't read a lot of business books, in fact, I read very very few. But this weekend I took some time off from my usual work-avoidance mode to start reading a new book that showed up in my office last week. By the end of the first chapter I knew this was one book I need to be recommending far and wide.
The book is called "The SAP Green Book", and its author is Michael Doane, who is well known in SAP circles as the author of the equally well-received "The SAP Blue Book." Michael has been following the SAP implementation lifecyle as an analyst and consultant forever, and his knowledge of what happens when companies try to implement SAP is unparalleled. Michael is the guy I go to when I need some sage advice, and that about sums up the value of the book: sage advice on what to expect when implementation is done and it's time to get to work using a new  SAP system. Or, as Michael puts it in his preface: "…the Blue Book addresses an SAP wedding and this book addresses the SAP marriage."
One of the reasons this book is important is that it addresses a key issue that has been on my front burner for a long time: the care and feeding of the end user in an SAP implementation. Michael devotes a whole chapter to this subject, but it's Topic A for much of the book. This issue of meeting the needs of end users isn't just a good idea, it's the only way to guarantee that an SAP investment achieves its true value. Implementation and go-live failure is almost never about software, but it's almost always about a failure to take into account the needs of the growing number of end users who must use SAP software everyday.
While SAP customers and partners are the main audience, I think there's a lot of reasons for SAP itself to make "The Green Book" required reading. If SAP really wants to continue to grow and remain competitive, and it definitely does, the issues raised in this book need to be understood and addressable by everyone at SAP, from the field to the executive suite. There may be debates about whether Michael's proscriptions are the right ones, but I don't think his analysis of why SAP marriages often fail can be disputed.
Two more points: this is a plug for a book that quotes me on its cover, so you can imagine that I might be inclined to like it. But that's why I approved the quote — Michael speaks the truth. For my trouble I have been given me two free copies, which is the extent of the baksheesh I'm getting for writing this post. I'm also counting on some more advice down the road as well

Final point that just adds to Michael's cachet, IMO. One of Michael's cronies from ages ago was the creator and producer of the series X Files, and as a result Michael became the model for the most sinister — and therefore coolest — character in the series, the Cigarette Smoking Man. For those of us who know Michael, the resemblance with CSM is uncanny. 'Nuff said.