The other week Jon Reed from JonERP asked me to join him for his next episode of the ERP Lounge which I was both honored and flattered to do so. The episode which is now online and you can find here he also posted a piece up on the SAP Community Network that you might want to have a read through as well – the podcast is the same but with Jon he gives a very audience oriented introduction so to get the full blast of everything I recommend you read both! Was a thrill to do and Jon I must say puts an amazing amount of energy into doing!
Jon also does what he can to track what people are saying about the podcasts so he can fine tune future episodes and managed to somehow catch the following comment in Twitter…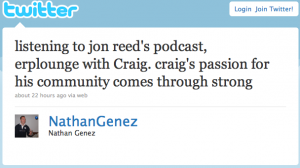 Which of course was awesome to see that my thoughts and feelings were coming well enough across during the podcast.
Jon touched a lot of topics that we were able to dig into and if you are a member of the SAP communities I'd recommend you have a listen and if you have comments or feedback by all means please do share – with anything community related it's how things evolve and change!
Once again major thanks to Jon for giving me the opportunity to share a bit of my thoughts!
This was one of my favorite podcasts, probably because Craig was incisive in his self-reflection, at a turning point in his own career, a few weeks into a new job role at SAP. Craig's articulation of the community path to recognition signals a new era in SAP career growth, where expertise is tied as much to community involvement as the solo pursuit of knowledge. At the same time, I wanted to give Craig a chance to call "BS!" on social media hype, and give us an honest take on how much the rise of social networks really helps our careers and how much of it is, frankly, "happy talk."
A big thank you for that Jon as well, you have a very impressive collection of podcasts so that statement alone will go in my book of high honors received!