It's been a week since my $GOOG Nexus One arrived and I put my $AAPL iPhone 3GS on the shelf (I bought the new AT&T ($T) version) – and since I've received so much interest from my friends on StockTwits and elsewhere, thought I'd give my quick perspective.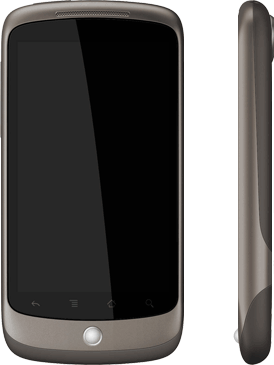 Overall
Love it – terrific phone.  Actually much nicer-looking live than on the web.  Powerful, customizable and fast.
The Good
Integrated Google Voice – I'm a big Google Voice user and Apple's lack of support for Voice was definitely a reason I got interested in Android, but I didn't realize how much better the integrated Voice app on the Nexus One would be.  I basically have a two line phone with much better 'visual voicemail' than the iPhone.  Absolutely love this.
Built in speech recognition – another reason I was frustrated with iPhone – the

$

NUAN Dragon app worked well but having to swap back and forth between it and whatever app I was trying to integrate with was a major PITA.  With Android – just hit the mike button and speak – from practically anyplace.
Multitasking – You mean I don't need to quit my e-mail to check my Tweets?  Another iPhone frustration made better by Android.  The phone does tend to lag a bit if you have too many apps running, but it took 30 seconds to download an App Manager that solved that relatively minor problem.
Integrated Google Everything – I live in Google – mail, calendar, contacts, docs, etc… – with Android you just put in account details and it's all there – immediately and always in sync.  Again, I knew this but didn't realize how good it would be.  The

$

MSFT ActiveSync-based (!) Google Sync for the iPhone pales in comparison.
Drag and Drop media – or just about anything – no need for iTunes or 'sync'.  Plug it into my Mac (or use Bluetooth or pop out the memory card) and my tunes and videos are right there – in any folder I want them in.
Navigator – I have a nav system in my car but I've already stopped using it.  The Nexus One's built in nav is awesome.  Thinking of buying a Garmin or Tom Tom?  Check this out instead.  No more getting lost on business trips.
Size & build – It feels significantly smaller and lighter than iPhone even if the actual physical difference isn't that great.  Again, great lines – great looking phone.
The Not-So-Good
Rough edges – there's no denying that Android still feels like a work in progress – it's not nearly as polished as the iPhone experience.  Little glitches here and there – nothing major but it's clearly not an Apple product.
Entertainment – while as mentioned above, the flexibility of getting media on and off the phone is very good, from a 'total media experience' standpoint iPhone still rules.  Of course, iPhone is very touchy about formats – while depending what players you use (there are many) Android seems to be able to accept just about anything (yes, including iPhone formats)
Fewer, weaker apps – it's well-known and true that there are far fewer third-party apps – I've found I particularly miss reQall (a to-do manager with a sweet iPhone app but no Android).  Twitter clients (I alternate between Seesmic and Twidroid) are good but Facebook is very weak.  Apps in general are fewer, less polished and more expensive than iPhone apps.
Overall
I love my Nexus One and am very glad I bought it.  It is, however, not for everyone and not an 'iPhone killer'.  My wife and daughter both love their iPhones and would be significantly less happy with a Nexus One.
But it is exactly what I wanted.
Overall, it is superior to the iPhone as a communications device, and inferior as an entertainment device.  On the latter note, I do still want an iPad – I think. But I'm gadgeted-out for a while at least – and I am planning to hear how my many first-adopter friends like theirs first.