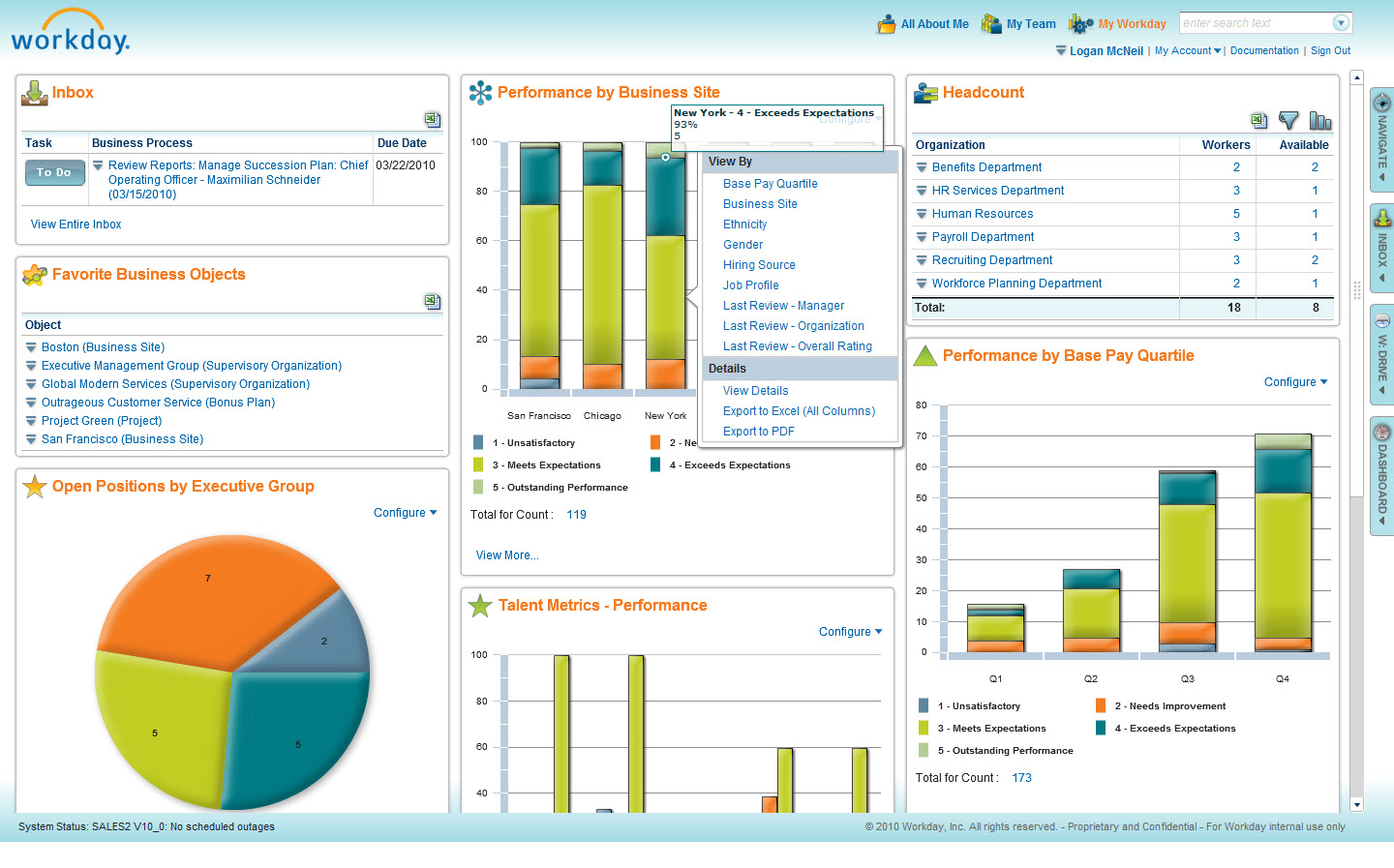 Workday Continues To Pioneer SaaS Success In The Enterprise
Founded by Dave Duffield and Aneel Bhusri in March 2005, Workday has grown the company to over 135 customers with 80+ companies in production, 17 enterprise payroll companies, and over 400 employees in 50 countries worldwide.  Key industries include services, technology, financial services, manufacturing, healthcare, and others.  Unlike other ERP pure play True SaaS vendors (e.g. NetSuite, Intacct, and Ultimate Software), Workday uniquely serves the mid-size to very large enterprise clients.  Large production clients range from 26,000 employees at Chiquita to 200,000 employees at Flextronics.  Workday's roots began with HR but Release 10 bolsters key financial and spend management capabilities, highlighting aspirations to be the SaaS option for Oracle, PeopleSoft, and SAP ERP replacements over the next 3 to 5 years.
Design Points Reflect The Principles Of Social Enterprise Apps
With the business user in mind, Workday incorporates 8 of the 10 essential elements for social enterprise apps.  These include (see Figure 1):
Role-based design. Software designed around how users perform work including applicable security models.
Consistent experience across channels & deployment options. Software that is agnostic to where or how that software is deployed and accessed.
Contextual & relevant delivery of information. Software which understands what information to provide users at a point in time
Configurable & adaptive. Software that can be modified to meet changing conditions.
Outcome-focused & results-oriented. Software that tracks key metrics across an end to end process.
Proactive, predictive, & actionable. Software that anticipates requests and supports decision making.
Engaging for all stakeholders. Software that opens up the system to new types of users, collaborators, networks, and communities.
Secure & safe. Software that meets security and disaster recovery thresholds.
(See The Software Insiders Point of View Photo Stream For ScreenShots)
Release 10 Features Move Users Closer To An ERP Suite
HCM adds Succession Planning and expands geographic reach. HR managers gain new functionality with succession planning by candidate names and positions.  Succession profiles track potential, achievable levels, and retention risk.  Improved enhancements touch absence, benefits, compensation, performance management, and staffing.  Cuba and Guernsey are added as 2 new countries.   Global personal data already supports 297 countries and all UN member nations.   Employee contracts now support Chinese and EMEA requirements.
Financials expands horizontal capabilities. Key updates include improved customer contracts, scheduled billing, revenue recognition, and milestone recognition.  New financial reporting features allow cost center and regional managers to run reports.  Users receive new project billing, basic VAT, sales tax, and customer statement capability.
Payroll augments existing capability.  New features include new off cycle calculations, worker history enhancements, gross-up, and off cycle billing.  Payroll remains focused on primary processing.  Multiple job processing is not available yet but planned for future releases.
Spend management adds a supplier invoice workbench. Additional enhancements span procure to pay, contingent worker procurement, resource tracking, and purchase order review.
User experience focuses on role based designs. Worker and talent profiles receive new looks that build off of the design elements in the "All About Me" and "My Team" pages in Release 9.   Multi-currency display for compensation now displays local and preferred currencies.
Analytics and reporting simplify data creation and consumption. Simple enhancements such as default values for report inputs, report tags for categorizing and search, and data creation from any source accessible by the user improve the ability to turn data into information.  Export now supports CSV, XML, and GData formats.
Ecosystem integration expands to new partners. New linkages include MrTed TalentLink, 15 new providers to the Workday Benefits Network (WBN), and improved integration security in the Enterprise Interface Builder
(See the full post and screen shots @ R "Ray" Wang's  A Software Insider's Point Of View)
Copyright © 2010 R Wang and Insider Associates, LLC. All rights reserved.