Bob Thompson raised a very important question in
Jeremiah Owyang's Social CRM Pioneer group
(public), which I suggest anyone who reads this post, should join.
"Can You 'Do' Social CRM without Social Media/Networks?"
It is a serious addition to the continued discussion that is going on enmasse throughout the social sphere about what Social CRM is. Bob's question in combination with other extraordinary conversations such as this one on
Frederique Garzon's blog last week
, and ones ongoing among the varying denizens of the
Accidental Social CRM group
, along with several other discussions, which I have to admit irritated the crap out of me due to their entirely self-serving, uncooperative nature, crystallized some of my thinking over the last few weeks and makes me want to saunter forth for a moment to lay out some things that I thought I would like to clarify – some of which I've either written about in CRM at the Speed of Light's 4th edition, or via my blogs, other pieces new or at least resituated from where I thought about it previously.
So, if you're game, I'm game.
The Customer Ecosystem
I'm trying to figure out a way to make this seem emphatic without capitalizing all the letters. Lets see….Okay I think this might work.
The business ecosystem is controlled by the customer. Period. That means its NOT controlled by the company and its NOT jointly controlled. The controller of this ecosystem is going to be whatever group drives demand and, currently that is I think, indisputably, the customer (if it isn't that – meaning you want to dispute it – prove it to me. Take my word for it – it would be tough.).
While we call the the customer-boss the social customer, that doesn't mean that all customers are consciously social. Those who are social demand much more of the companies that they deal with including some way to communicate with that company transparently. That goes along with an expectation that the company is going to take action on the communications in some way too. Here is a somewhat simple, sorta catchy slide that outlines what the social customer is.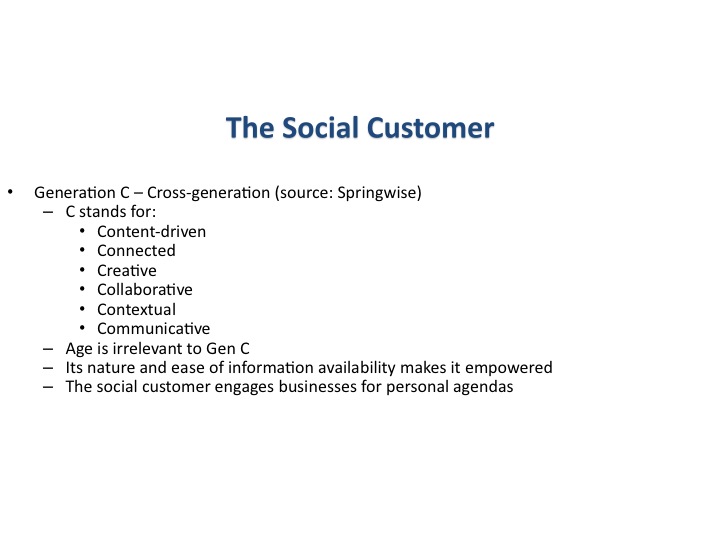 We've seen the actions taken by companies in response to the social customer literally countless times for good and bad with bad being the recent Nestle's brouhaha and good being Procter and Gamble's ongoing work with VocalPoint, Connect & Develop and use social marketing (as in the Sparklebody spray example).
Nestle is a great example of how savvy organizations can take advantage of the customer's control of the conversation. The incident which is well documented here began when the company decided, that Nestle's customers who were supporting Greenpeace's campaign protesting Nestle's use of palm oil for their Kit Kat candy bars, bought from an Indonesian company who were apparently involved in the decimation of the rain forest. If Nestles had been smart and had responded the way they could have, which was to issue a public statement "we stopped buying from them" – which they did. it would have all been over. Instead they violated social customer rule #1 – if you don't like it, don't delete it unless its truly offensive. Instead, they decided to delete all posts from the Nestles Facebook page that altered the Kit Kat logo to make it look like "Killers'. They compounded the action with a really snotty employee who responded to the complaints about deleting the messages with incredibly buttheaded sarcasm – and continued it for quite awhile. Naturally, the customers took hold of this, drove up the Facebook page fan membership to 96,000 mostly detractors and rammed the employee's snotnosed comments up his – nose. Even though Nestles had actually dealt with the problem by stopping their purchase, it didn't matter because they had attacked the social customers who came to one another's defense. Nestles created a firestorm they didn't have to. To see what Nestles might have done in this circumstance, read the Altimeter Group's Jeremiah Owyang on the approach that Nestles (and others) could take.
The fundamental point is that the customer's command of the ecosystem is firm. Their are other countless examples of this – enough to make the case definitive. How the social customer communicates in this new environment is changing too. Nielsen's Online Research's "Global Faces on Networked Places" survey found in March 2009, for the first time ever, when it comes to those using the Internet, more of them are communicating via communities (66.8%) than via email (65.1%). You can extrapolate from here (I do). The social customer communicates in a world of one to many via multiple channels as frequently if not more frequently than even one to one communications, strengthening his or her ability to impact more than one person at a time.
Let me clarify something else again. Not everyone in the world is a sophisticated social customer. In fact, I would venture to say that most of the people in the world aren't that sophisticated nor do they communicate much beyond the phone at this point. But even those who aren't "social customers", are affected by how they communicate via phone. There are 3.3 billion cell phones in the world and they are available inexpensively and even free to the poorest person in the poorest town. That means that communications via a phone – whether strictly as a voice-to-voice device or via other services like text messaging, is now untethered and allows for real time or near real time response, possibly in multiple ways. That means that even these non-savvy customers are being impacted by the communications revolution that's occurred and that has given the customer the ecosystem control. If you want more detail on the customer ecosystem, I'd humbly (though being a New Yorker, I'm not THAT humble) suggest you purchase and read my book. Or go to the McGraw Hill professional site and get the five free not-in-the-print-edition-and-no-need-to-register chapters here
What this means for your business is significant. It means that you need to cede control to the customer's ownership of this conversation. In the past, where, even if you were at a customer-centric company, your company controlled how they communicated and responded to customers. That meant the marketing and messaging, the way and time in which you responded to customer service complaints and queries, the products and services that you provided, were all pretty much based on your company's operational objectives and business methods. What this cession of control means is that you recognize that, unlike the past, the channels of communications are now owned by the customer – and there are many that they can use to communicate that are outside your firewall. It also means that they have a series of demands that now have to be met or they can quite easily – much easier than ever before – take their business elsewhere – and get the same products or services they were looking for from a competitor of yours. It also means that they control how, when and what messages they want to hear from you – and when they do respond or proactively communicate with you they can do it in a way that your company can't control – because the effective communications channels are public. If they decide to communicate with you, they expect certain kinds of channels should be available to them – and if you don't provide them – they will communicate publicly instead.
Of course, as I've repeatedly said, even with the customers' control of the conversation, your business still has control over its own internal operations. But how they need to be used in customer facing activities is what you've lost control of. For example, processes that the customer doesn't like, even if you do, will lose you their business if you don't change or replace them. Nonetheless, as a business you still have to set business goals, develop KPIs and other metrics that benefit your expected business result. You need to establish the processes that will make your business run effectively. But in this new world, you have to consider the effect that the customer has on the process and the effect that the process has on the customer. Sound strategy tells you that business process management is no longer agnostic. Its not coincidental that those vendors who had been strong BPM providers such as Sword-Ciboodle and Pegasystems are staking their claim in CRM now. They understand the trend and rather than resist it and hope that things are what they were, they are acceding the change and making the appropriate strategic adjustments to their products, services, etc.
Make no mistake about it. If your business doesn't understand this, for example, they won't provide the level of transparency that the customer is now demanding to make an intelligent decision on how he wants to interact with your business. But if you do this, there are multiple opportunities to actually take what could be a vast problem and turn it into a vast advantage, actually giving you the opportunity to recruit advocates.
Okay, treat this as the context.
The Strategy and Model Suggested by the Customer Ecosystem
I think there's one more thing before we get into Bob's question. I'd like to reseat the ongoing bigger discussion a little bit. A few points:
Social CRM is an extension of CRM, not a replacement so some of the tenets of traditional CRM remain as important as ever.
The true difference between CRM and Social CRM is the customer strategy associated with it, not the use of technology. Traditional CRM was a customer management strategy that was aimed at providing the programs to a business so that they could be more effective with their customers in providing them with the products and services that they needed. Social CRM is a customer strategy that aims at engaging the customer with the company in ways that allow each to make an intelligent decision on how they can interact with each other. This allows them to both transparently cooperate – and meet each other's needs. Make no mistake about it though – even though the benefits will be mutual, to make this work, the business organization has to be realistic and acknowledge that the customer is now in the driver's seat.
That also means that the new business model is different too. The traditional model associated with CRM was based around providing better products and services to the customer – and also good customer service. It was a sales driven model to some degree – thus the first mover in CRM technology was salesforce automation. It was also transaction-focused, driven by purchases. The new model is interaction-driven (though transactions still matter, obviously) and with that, the most interaction-directed pillar, customer service, is emerging not only as the primary of the three pillars of CRM, but as a wrapper around all interactions in business.
This new model is no longer based on just the constant improvement of products and services. At this stage businesses need to be aggregators of products, services, tools and consumable experiences – so that the customer has what they need to sculpt their own involvement with the company that they've chosen to be involved with.
In the longer term, the model will be (hopefully) a company that's sufficiently transparent, institutionally structured and culturally ready to collaborate and innovate directly with the customers.Obviously, this isn't the way that most customers will interact with all the companies that they have some interaction with. Many times we buy for immediate need and for convenience – and that mostly doesn't require deep or rich customer/company relationships. But it is the way that companies need to structure themselves, allowing for the fact that while social customers of the level I'm speaking of don't exist in the billions, those that do exist (could be hundreds of millions – given the ubiquity of internet connectivity, the near ubiquity of broadband connectivity and the findings that 74% of all adults on the web are active in some social network or another) have influence far beyond their individual purchases and there will only be more and more of them as time passes and tools to communicate cheapen – even as features get more sophisticated.
One thing that CRM and SCRM have completely in common is that no matter how you view these things, or define them, or implement them, they are based on the customer experience with the company and the perception of the experience by the customer. As I always say, "you don't have to have luxury, you only have to feel luxurious."
Okay, now on to Bob's most important question.
Can You "Do" Social CRM without Social Media/Networks
Emphatically yes. The same way that you could always do CRM without the use of a CRM technology system. Nothing has changed when it comes to whether technology needs to be used. Social CRM is a reflection and acknowledgement of the changes in customer behavior and the resulting demands on business institutions. It means that the company needs to figure out what the customer is demanding and how to utilize the new formats and channels that the customer is communicating in already. That's what makes it social, not social media.
First a quick look at what at least I think when we're talking about when we talk about social media and what Bob T. makes clear in his question. There is a distinction between social media and social networks. Social media are tools (blogging, podcasting, client communications tool, etc) – and, as a matter of fact are different than social channels such as Facebook and Twitter. For example, Twitter is a communications channel while HootSuite, Tweetdeck, Seesmic etc. are tools that facilitate communication via Twitter outside Twitter's native client tool for communications via Twitter. I'm going to leave it at that.
Social media doesn't have to be included in programs for customer engagement. That said, there is no reason to constantly disparage the use of technology or recognize its importance to a Social CRM (or traditional CRM) program. In fact, for the first time in a long time, consumer technologies like cellphones/smartphones and various web tools are partially driving the changes to the customer's behavior because they are cheaply and easily available and eminently learnable, which makes these new modes of communication simpler than ever. Unlike in traditional CRM, where technology was strictly an enabler, not a driver, in SCRM, some technologies have been drivers of the transformation in the customer and are now becoming in part drivers of business change. I don't want to overemphasize this, but I do want to note it because its something that I personally wouldn't have supported several years ago. I do think that consumer technologies and social channels are impacting business in ways unheard of years ago. Look at the iPhone or Facebook or the growth of the social media monitoring space in a short couple of years.
The use of a Facebook page (channel) or sentiment analysis tools to monitor brand activity outside the firewall can only be part of a strategy that's based on the programmatic requirements that a company has when it comes to gaining the kind of insight into the customer to provide them with the aggregate component I mention above. But if you can provide an extraordinary customer experience without them, then don't use them.
Doing It Without (Oh, Be-HAVE)
Several years ago, I met the CIO of a Latin American branch of a huge multinational corporation who told me that their competition was huge when it came to nabbing distributors for their products. Because most of their distributors were in small villages, there was no internet connectivity at all. So the only way they could communicate with most of their distributors who were mom-and-pop sized was via the phone or in person – and they sometimes didn't have phones. The only thing the the star distributors (small retailers) got as a reward was great signage. What could they do? Social CRM tools or CRM tools didn't do a thing in this situation. So here was the game plan I suggested.
Provide vacations and prizes for the best distributors that gave them something for their families, not just signage for the business

Produce a newsletter of some frequency that went out on the trucks that dropped the products (I said "treat the drivers as your internet") to the retailers. Make sure that the contests and stories about the winners in addition to useful tips and business news appeared in the newsletter.

Hire all the drivers locally, since they would then know the retailers in the surrounding area and it would strengthen the relationship.
You get the picture right? No internet, no social media, no SCRM technology, but a customer engagement strategy designed to give this company a real advantage due to the social bonds between retailers and the drivers and using the preferred communications channels of those customers.
Here is another example that I've used many times. The Green Bay Packers – has been wildly and widely engaged with its direct customers – the town of Green Bay and many others outside there for more years than there has been a CRM, much less an SCRM. They have a social media presence which as you can see is minimally indifferent and apparently ineffective. But what they do have is a program for community engagement, which is a hallmark of SCRM. Their purpose is to turn those community members into advocates and nothing less than that – again, a hallmark of SCRM strategy. They've succeeded with a measurable ROI and no particular CRM or SCRM or social media tools making much of a difference to that strategy. The program is an engagement and advocacy program whether there are tools or not, and here, for the most part, there are not.
That said, there's no reason to either laud the non-use of technology or the intensive use of it. One of the values that CRM technology has always had and this has carried over to SCRM related technologies – is that if they are used well, they make the implementation of the strategy easier than it otherwise would be and interestingly less costly. Or at least more effective. For example, imagine if there were internet connectivity in the example of the multinational in Mexico. If the retailers had been reasonably skilled at communicating via these channels with the tools, there would be a lot easier path to both communicating with them and understanding them better (think data captuer and analysis).
Again, to answer this as best as I can, SCRM doesn't need social media nor does (did) CRM need systems to implement a program based on a particular customer strategy. Depending on the company, customer base, etc. what it takes to implement an effective program varies from company to company. Nothing changed there at all.
Hopefully this helps. It helps me clarify my thinking, I have to say. Please do me a favor. The reason I didn't make this a comment in the Social CRM Pioneer group is because of its length and because there are other conversations going on about this beyond there. But rather than comment here, please do me a favor, click on this link here and put any comments you might have on what I say in the Social CRM Pioneer Group. I think that that would be appropriate and a good way to further the discussion.
See ya later. I'm starting work on the CRM 2010 Watchlist "3 months revisit companies" and will be making a few other comments and additions to that list. Watch for the first post on the updates 2010 CRM Watchlist over the next few days. If you're interested, here's a link to a PDF of the entire Watchlist including Brent Learys SMB contributions that ZDNet has so kindly provided. (Registration necessary for download) Also, i'm going to be traveling a lot. You can find my calendar at Tripit, though you'll have to register and become part of my network to see it. If you want to meet up in one or two of these locations, let me know and if its at all doable, I would be honored to.