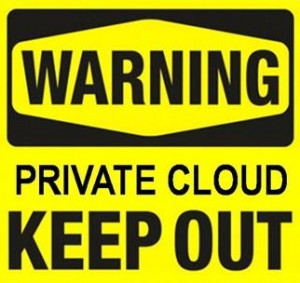 I am hearing plenty of conversations around private clouds. The basic theme is "we will virtualize our processing and storage and get many of the benefits of public clouds".  And, of course, "we will have none of the security and service level issues with public clouds."
Incumbent application vendors encourage that thinking as a way of deflecting attention from their own bloated piece of the budget. Outsourcers see that as a way to sell VM services. Life goes on.
But here is what clients are signing up for with private clouds:
Few tax or energy or other scale efficiencies
In my upcoming book, Mike Manos who helped Microsoft build out its Azure cloud data centers says
"Thirty-five to 70 individual factors, like proximity to power, local talent pool, are considered (as location factors) for most centers. But three factors typically dominate: energy, telecommunications, and taxes. In the past, cost of the physical location was a primary consideration in data center design."
So the locations that amazon, and Google, and Yahoo! and other cloud vendors have chosen for their data centers reflect aggressive tax and telecommunication negotiations. Their global networks of data centers also allows them to do what Mike calls "follow the moon" – scouring locations every so often for cheapest locations to process energy intensive computing.
Additionally these new data centers have massive machine to man efficiency ratios – 3,000 to 5,000 servers for every data center staff.
Few clients will get any of these efficiencies from their own data center or even from their "private cloud" outsourcing or hosting provider.
Little AM leverage
The last significant productivity in application management most companies saw was through offshore labor arbitrage. Companies have gradually seen that dwindle with wage inflation, younger offshore staff and related turnover. And the irony is even in massive campuses in Bangalore and elsewhere, there is no real management "scale". If you walk into one of those buildings you see fortified floors which cordon off each customer's outsourced team. There is very little sharing of staff or tasks across clients. Compared to cloud AM models, that is hugely "unshared" and inefficient.
Persistence of broken application software maintenance and BPO models…