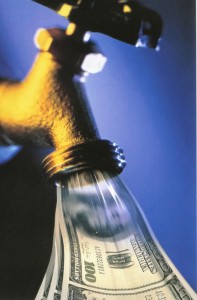 In a wide-ranging discussion of the mechanics of the as-a-service model at last month's EuroCloud UK meeting (disclosure: of which I'm chair), the liveliest debate sprang up around the topic of SaaS contracts. Sitting at the back, I let others do the talking, but now's my chance to add some observations of my own on this important topic, drawing on some of the work I see being done in the industry.
Workbooks.com CEO John Cheney, who was a panelist in the debate, made out a strong case for selling multi-year contracts based on his experience at a prior venture, BlackSpider Technologies, an early SaaS provider of email and web security, which was acquired by SurfControl in 2006 (itself later bought by Websense). He argued that the high startup costs of operating and growing an as-a-service business generate such a huge funding requirement that you have no choice but to sell one-, two- and three-year contracts to get cash in the business. Booking long contracts doesn't increase the bottom line — the revenue can only be recognised as it is incurred — but getting the upfront payments in the bank certainly boosts the cash balance. He described how salespeople at BlackSpider had been heavily incentivized to sell multi-year contracts, while commission rapidly tailed off if contracts were shorter than one year. Many customers preferred to sign up for long-term contracts, he explained, because it gave them budget certainty along with the satisfaction of achieving a keener price.
While I'm all in favor of funding a business from customer revenues rather than having to rely on external venture capital or private equity, I felt the success of this strategy perhaps depends on market conditions. I suspect it works best when selling to IT buyers who are used to funding infrastructure on perpetual licences and who therefore set their budgets on the basis of paying a one-off sum to provide for a three-year requirement. It may not work so well when selling to business people who want to measure results before committing expenditure for such a long period. That in turn raises the question in my mind whether relying on multi-year contract sales would lock a vendor into a business model that has more in common with on-premise IT and perpetual licensing than it does with the future mainstream of as-a-service IT. Once customers get more accustomed to pay-as-you-go contracts, will it get harder to sell multi-year deals? In some markets I think it will.
The question vendors have to ask themselves is whether they're making the kind of sale where customers want to make an evaluation and are then happy to lock themselves into a multi-year contract. I can see it working well for IT infrastructure, ERP and other structural investments. It may go against the grain for more tactical purchases such as CRM, analytics, performance management and so on. Clearly, too, it will work far better for a sales pipeline that relies heavily on direct, person-to-person selling rather than one that is highly automated and largely marketing-led. But let's not get sidetracked into that discussion, which opens up a whole new avenue of debate that is best left for a separate blog post (in addition to the one I already promised on sales compensation strategies)…