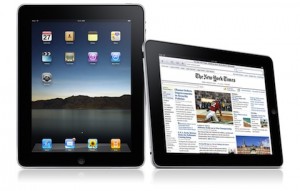 I've already voiced my belief that the iPad will ultimately be a disappointment. It's certain that Apple will sell millions of the devices to technophile early adopters but the prospects for the broader market are mixed and considering that Jobs has declared the iPad the "most important thing I've ever done" well I can't help but recall that pride cometh before the fall.
I admit to having mixed feelings about this myself, thinking that having a giant iPod Touch would actually be really cool in spite of the cost of acquisition and cost of operating it (assuming you believe 3G is essential for a portable device like this). Then there are the add-on charges that app developers believe they are entitled to… some are certainly justified but for publishers charging 2 and 3x for iPad apps vs their iPhone apps, I feel repulsed.
Publishers are approaching the iPad like a holy grail that gives them the superpowers to avoid having to reinvent their businesses. It won't do that and if Time Magazine really believes their iPad version is worth $5 an issue then the only explanation is that they are taking all their leftover print mags and rolling something up in them and smoking it.
The whole notion of having "an issue" really underscores how publishers still don't understand what is going on with digital content. I, like most of the market, don't want to read a compilation of content like I had to do with print. I want digitally connected content that brings together many sources topically or theme
Cory Doctorow wrote something today that goes far beyond the iPad specific issues and speaks to the broader trends with devices like this (and the iPhone and the Kindle and many more) that ultimately prove themselves to be hostile to consumers. Take for example the proliferation of DRM that prevents legitimate sharing of content:
And let's look at the iStore. For a company whose CEO professes a hatred of DRM, Apple sure has made DRM its alpha and omega. Having gotten into business with the two industries that most believe that you shouldn't be able to modify your hardware, load your own software on it, write software for it, override instructions given to it by the mothership (the entertainment industry and the phone companies), Apple has defined its business around these principles. It uses DRM to control what can run on your devices, which means that Apple's customers can't take their "iContent" with them to competing devices, and Apple developers can't sell on their own terms.

[From Why I won't buy an iPad (and think you shouldn't, either) – Boing Boing]
Not only are we passively accepting the locking down of content that otherwise could be legally shared but publishers are using this pacifism to pressure channels to mimic physical goods pricing with digital products that have nowhere near the cost of production and distribution that physical goods have.
The arrival of the iPad, another locked down device, resulted in an unwelcome surprise from Amazon, Barnes & Noble, and Sony, which is that publishers will now set pricing on these digital content networks rather than risk having valuable content held back in favor of Apple. It is somewhat ironic that Apple is the catalyst for this move having launched the iPod with a controversial one size fits all pricing model that content owners, then and still now, gripe about but the arrival of the iPad and another dedicated content network highlights how when interoperability of content is not allowed the content owners end up being the ones with real power because they can play the devices off each other.
Doctorow also goes on to criticize Apple, and everyone else if you accept his argument, for offering a sealed hardware device that can only be extended via software applications that the very access to is controlled by Apple. There is a valid point here that abstracting the hardware layer and making it physically inaccessible gives great power to the manufacturer.
Apple's model customer is that same stupid stereotype of a technophobic, timid, scatterbrained mother as appears in a billion renditions of "that's too complicated for my mom" (listen to the pundits extol the virtues of the iPad and time how long it takes for them to explain that here, finally, is something that isn't too complicated for their poor old mothers).
This trend was not started by Apple, it has pervaded consumer goods for decades as our society has embraced disposability over repair and durability. I doubt it will change and in many ways cannot fault Apple for sealing the device but I still cringe when my iPhone battery is on red and I can't swap in a freshly charged battery… this is where convenience for Apple results in inconvenience for the consumer.
BTW, if we could do away with the tired "even my mother could do it" metaphor we would all be better off… not only is it sexist but it rarely holds up these days… moms are not genetically disadvantaged when it comes to tech.
Like I said at the top of this post, Apple will sell millions of these devices but I don't believe it will achieve the lofty dreams of the hardcore apple fanboys. It's not a laptop replacement… and you still need a computer to interact with it so it's not a new computing model. It's not even a new computing paradigm because tablets have existed for years and we'll all been having fun with the iPod and iPhone for a while now. App developers and publishers are wildly enthusiastic about this device but jeez what do you expect them to be… downbeat?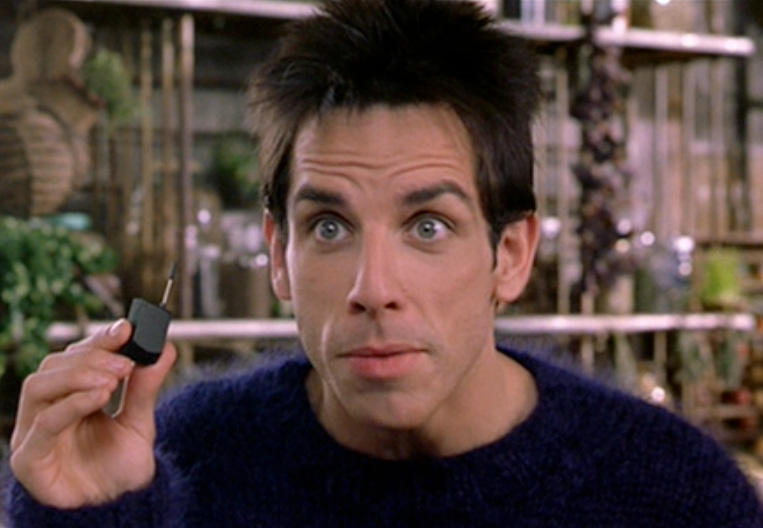 It's not a phone and it should not be one either… why would you want another number and another service (like Google Voice) to manage the call routing with? I'm reminded of Zoolander with the micro cell phone, only in this picture it's a supersized iPhone that still doesn't have the benefits of integrated voice telephony and data… because the carriers aren't doing that. Maybe Apple (and AT&T) will allow for the tethering of iPads and iPhones… but maybe not… either way it's not something they talk about now so even though it's an obvious benefit for users why should we believe they will do it?
This gets to the last point, which is the one that I believe Doctorow is trying to make, which is that you, as a company, have to decide what side you are going to fight for, consumers or partners. You can't have it both ways and in Apple's case they went from standing up for clear benefits for customers with the original iPod to now benefiting telcos and content owners, as well as themselves. Amazon is guilty of this as well, rarely has a business been more pro-consumer than Amazon yet by caving to publishers they are saying that their growth aspirations for their Kindle business are more important than standing up for consumers.
Relying on incumbents to produce your revolutions is not a good strategy. They're apt to take all the stuff that makes their products great and try to use technology to charge you extra for it, or prohibit it altogether.