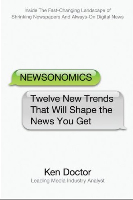 Ken Doctor's recent book, Newsonomics is a fine tour of the forces (a tour de force) transforming the news industry as we enters "the Digital News Decade." Though the disruption has been underway for a dozen years and the crisis for the news industry crescendoed to a clamor in 2009, it is still too early to know exactly where all this will lead.
Still, if you want to understand realities that constrain what could happen and to participate or survive in the news industry that will come, then reading this book would be a great starting point. It provides both snapshot of the "blooming buzzing confusion" at the moment and a "handbook for all those that care deeply about our news future".
Doctor is perfectly qualified to cover the full sweep of the territory, former and disrupted. His career started in the world of the second half of the 20th Century news where metro and local newspapers could both serve public purpose and be great businesses. His career continued as digital news executive and consultant in the last dozen years of the Internet's dismantling of the former reality.
Doctor sets the stakes on the two big questions for what's ahead. How will we get hiqh-quality news produced and how do we get it paid for?
Though Doctor clearly carries the values of a traditional journalist—Certainly in this nation of 300 million people … we can figure out how to pay living wages to fifty thousand or so people who root out what is going on in our communities and cities—he understands and embraces the forces of change, and having traveled along with them, is optimistic or at least willing to believe that new models that address the civic need will emerge.
The book is organized as twelve laws, though perhaps better called trends or themes or as he says, building blocks for the future of news. Doctor shows his stripes as both newsman and analyst in producing a highly-readable and substantive stream of quotes, stats, facts, stories and analysis.
In alignment with the new ways of journalism he describes, Doctor continues to cover the story across the web. Below are the 12 "laws" linked to pages on his site that act as portals to his ongoing writings. I will certainly follow Doctor wherever he writes.