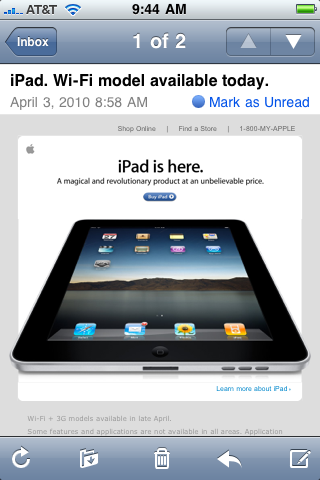 While we "don't do numbers" here at RedMonk, I come across many interesting numbers each week. Here are some:
Apple today announced that it sold over 300,000 iPads in the US as of midnight Saturday, April 3. These sales included deliveries of pre-ordered iPads to customers, deliveries to channel partners and sales at Apple Retail Stores. Apple also announced that iPad users downloaded over one million apps from Apple's App Store and over 250,000 ebooks from its iBookstore during the first day.

"It feels great to have the iPad launched into the world — it's going to be a game changer," said Steve Jobs, Apple's CEO. "iPad users, on average, downloaded more than three apps and close to one book within hours of unpacking their new iPad."
More numbers commentary from Joseph Tartakoff.
Of the ["more than 1,000"] developers who were polled, 53% said they were "very interested" in the iPad as a development platform, down from 58% in January. That put the tablet in third place, behind the iPhone, with 87%, and Google's Android operating system, with 81%, but significantly ahead of others, such as the Blackberry, at 43% and Windows Phone 7, at 34%.
No doubt, Red Hat is in solid financial shape. And The VAR Guy even owns a few shares in Red Hat. But let's not lose sight of the facts:

Red Hat is growing nicely, and is poised to become the first $1 billion open source company.
Microsoft's annual revenues for 2009 were $59 billion.

Translation: Microsoft is still 60X to 100X the size of the world's most successful open source company, depending on which financial quarter you're tracking. That's rather amazing.
Geoff Huston, chief scientist at APNIC and an expert on Internet infrastructure issues, says IPv6 now represents 1 percent of all Internet traffic.

"The good news is that from 2008 to 2010, in terms of routing IPv6, we were growing faster than we thought," Huston said, pointing out that the number of IPv6 entries in the core routing tables grew from 1,000 to 3,000 in that timeframe. However, the number of IPv4 routing table entries now tops 300,000.
Zenoss generated roughly 150% year-over-year revenue growth in 2009 vs. 2008;
the Zenoss customer base grew roughly 40% in 2009 vs. 2008
for every $1 customers initially spent with Zenoss, the same customer typically spent an additional 40 cents in order to expand their use of Zenoss;
major service providers and consulting firms embracing Zenoss include Accenture, CSC, Perot and Verizon; and
VMware itself uses Zenoss to manage virtualized data centers.
"General Electric used to deliver their [US tax] return in an 18-wheeler truck," recalls Tony McMahon, the director of Enterprise Computing Centers for the IRS. Instead, GE's return is now sent electronically using the XML format, as is mandatory for corporations with more than $10 million in assets.

A total of 94 million returns were filed electronically in 2009, up from 79 million in 2007 and 88 million in 2008. About 45 million paper returns were filed last year.
Cloud broker RightScale has launched more than 1 million servers on the cloud through its RightScale Cloud Management Platform, the company announced today. ..