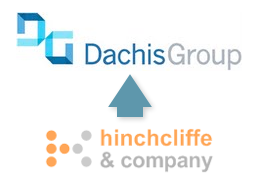 It's been a very rewarding road the last few years with customers and colleagues as we've built up our premier consulting practice into a well-respected boutique services firm.  However, all companies must evolve and grow to meet the needs of the marketplace.  Thus, today I'm extremely pleased to announce that we are taking things to the next level by joining up with the Dachis Group, which has formally acquired Hinchcliffe & Company effective immediately.  The press release has all the essential details and I couldn't be more thrilled about what this means.
I've been following what Jeff Dachis and his outstanding team have been doing the last couple of years and it's clear to me that their vision for Social Business Design is a profound one that very much captures the zeitgeist today.  It's also one that I feel that has real alignment with the thought leadership we've engaged in and the offerings that we've provided over the last 4 years.  I should also emphasize that Jeff Dachis's deep insight into the industry, his proven track record, and his dedication to this vision are key contributing factors in deciding that this is truly the best move to make in our industry at this time.  I believe this will give us much needed opportunity for growth, deliver real benefits for our customers, as well as attain that very essential yet elusive goal for any startup: focus.
To the latter point, it's almost a truism that focus is something that is hard to achieve in any organization on the  emerging edge of business and technology.  When Web 2.0 arrived on the scene in the middle of the decade, it was clear that something momentous was happening in our personal lives, but it was almost too large a change for most of us to easily digest.  Now, much the same transformation has begun in our businesses.  Back then I decided to immediately create a company to bring these ideas — and changes that accompany them — in the most positive possible way to enterprises around the world and I haven't looked back.
The outcome was something most of you are now quite familiar with in the subject matter we explore in depth in our blogs, workshops, books, articles, speeches, and consulting practice: social software, cloud computing, open APIs, innovation, crowdsourcing, Web 2.0, Enterprise 2.0, Social CRM, and more.  It is now increasingly clear that these ideas are all part of a macro set of trends and concepts that are changing the way we structure and operate our organizations today.  Thus, as I stated in the press release, I believe that Social Business Design captures these ideas in a comprehensive approach that will be an essential foundation of next-generation enterprises.
Ultimately, joining forces with the amazing folks at the Dachis Group (Peter Kim, Lee Bryant, Jevon MacDonald, and Jeff Dachis himself to name just a few) will allow us to serve clients far more effectively and in higher scale than we ever could with our niche firm. In short, our new expanded footprint, great new talent pool, and a global team is going to allow us to do things that just weren't possible before.
This move therefore gets us poised for what happens next: The coming half-decade is going to be a tremendously important and exciting one in the business world as organizations look to fundamentally retool for the 21st century, an era that has quite different expectations and requirements around business and how it gets done.
As for what I'll be doing now, it will be much of what you're familiar with.  Publicly, the changes will not be noticeable to many of you; I'll still blog, speak, research, and otherwise engage in the communities of practice that I'm involved in.  But we'll also be helping organizations hands-on to transform and succeed with the very latest new business models in our networked economy in a high impact way.  I invite you to join me in celebrating this major new chapter in our lives and as always, please get in touch with me to discuss any of the subjects above.  You can now reach me at dion.hinchcliffe@dachisgroup.com.