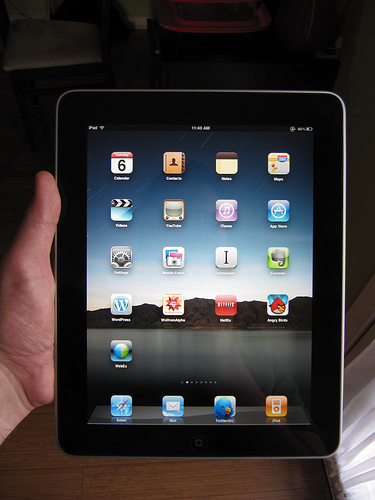 I'd gladly use an iPad everyday in addition to a real computer, but it's too expensive to justify.
Luxury
The iPad is fun device, great for reading and tedious for writing. I could see paying $100, even $200 for it, but the current pricing ("starting at $499″) makes it an expensive toy. Otherwise, that cash would be better put towards a real computer, like a MacBook Air.
The hardware is fantastic, and certain sites and apps like Google Reader and Twitterific are made better on the iPad.
Consuming Content is Cozy
Google Reader in particular is fantastic to use if, like me, you read a large volume of items: the ability to quickly scan a pad-screen full of items and move on to the next batch after reading the rare interesting item is more productive on the iPad than a laptop or iPhone.
Like all new Apple devices, once you have an iPad you can't keep your hands off it. I found myself going to App Store hoping to find apps so I'd have an excuse to use the iPad more.
For personal, consumer use, the iPad is one of the most delicious computers you'll have ever used. The iPad is fast, has a crisp display, and using multi-touch instead of mouse and keyboard is like swimming instead of walking in a hot day.
When you open up Netflix and just start clicking to watch video on demand (Faulty Towers, in my case) it all comes together. And surfing the web on the iPad is so much better that doing it on a traditional computer. Apple coyly hides all those little blue boxes so you don't notice the lack of flash.
The battery life is like no other computer I've used before: in the two days I used the fully charges iPad, i only plugged it in once for about 30 minutes to sync with my iTunes, not really charge. When I gave it back to Charles, the battery was around 30%.
Even the tin-toned speakers make a suitable jam-box for casual music listening.
From a consumer perspective, the iPad is near perfect. If you don't mind the high price, you'll love it.
At the office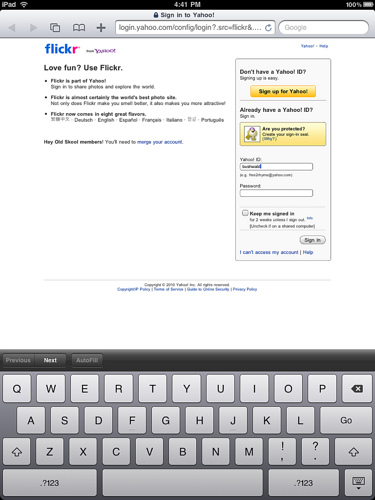 For pro use, you're better off with a laptop…