Throughout a 20-minute customer presentation at yesterday's UK launch of Workday, I was intrigued to hear not a single mention of the word SaaS — or even cloud computing. Johnson Odesoh, group IT strategy and architecture director of Aviva, explained why the insurance and financial services giant has chosen to standardize globally on Workday as its HR system, with 16,000 employees in Europe and North America (out of a total 46,000 worldwide) due to be on the system by the end of this year.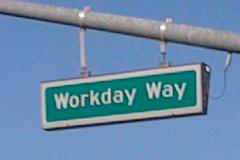 Workday, a company so confident of its destiny that it has already put its name to the Pleasanton street where its headquarters stand (see picture), is a leading light of the software-as-a-service industry [disclosure: and is a consulting client]. Yet SaaS is not a leading component of its pitch to the HR IT buyers that form the bulk of its prospects. That set me wondering. Is SaaS core to its offering, or is it just peripheral?
Aviva's case study seems to exemplify the problems that Workday's larger customers look to it to solve. After a series of mergers and acquisitions in the past dozen years, the company currently operates 19 core human capital management (HCM) systems (and more than a hundred in total) across its four global regions. Its objective is to standardize on Workday as its single core HCM system, allowing it to operate harmonized processes globally, including group-wide self-service HR. In a summary slide, Odesoh presented these five answers to the question, why Workday?:
"Global at the core but flexible to meet local requirements
"Usability/user feedback
"ROI: cheaper overall and faster to benefit than on-premise
"Record of delviery – against strategic roadmap, V8, 9, 10
"And finally a real focus on Customer Satisfaction ([CEO and founder Dave] Duffield is passionate about customer service)"
Although SaaS was unspoken, it was implicit in this list, especially in the cost and time-to-benefit comparison to on-premise — in answer to a question, Odesoh said that, "Our estimate is Workday is at least 25%, perhaps 50% cheaper" than on-premise competitors Oracle or SAP, mainly due to the simpler implementation and process configuration of the Workday solution. Aviva's first implementation, in the Czech Republic, Romania and Hungary, was evidently chosen as a rigorous edge-case test of Workday's capabilities, posing a tough localization challenge (including local language) as well as proving the provider's reach into territory far distant from its data centers (Workday passed the test, scoring an 85% user satisfaction rating).
Much of the appeal of Workday, though, is simply down to having an architecture and a codebase that dates from the current millennium. The software was written from the outset to operate globally, to have a browser-based (and mobile) user interface, and with an object-based data model that gives it a huge amount of flexibility. On-premise rivals are still in throes of updating their underlying architectures from a design point that dates back to the mid-1980s. It's no accident that SaaS CEOs often highlight this aspect of on-premise software. NetSuite's Zach Nelson likes to talk about 'stone-age software', designed before the Internet existed; ServiceNow CEO Fred Luddy last year described his competition as 'Soviet-era software'. Workday itself found much resonance with its early depiction of traditional enterprise software as a block of concrete, impervious to meaningful renovation…