SAS's legal department, which seems to be the only SAS department retaining the outlook of the early 20th century, asked all the bloggers who are posting who had their travel expenses covered to put in a disclaimer that they had all their travel expenses covered.  My disclaimer is as follows:  See Denis Pombriant's disclaimer. I am officially in complete agreement with that as mine too.  Plus I think that SAS legal is off base and misinterpreting the December 2009 ruling of the FTC that covers paid blogger endorsements being revealed.  First, I'm not a "blogger" per se. I'm more of a consultant and an analyst who is hired as a consultant by almost every company in the CRM space for some reason or another. Second, I NEVER EVER will endorse anything for money. Ask any vendor I've consulted with about that .  Third, I really think they misinterpreted the ruling.  But, hey, they're the legal department.  I don't mind the disclaimer. I mind that they gave me suggested language.  But then again, the early 20th century was like that.  CYA .
But that is a mere poorly done blip by comparison with SAS's triumph in April 2010 – the 21st century.  They shined this week.  Let me fill you in.
A Bit of History
About 4 years ago, I was on the SAS campus to do a presentation to one of their internal groups.  I had the opportunity to both work with them and to get a tour of the campus, which among other things included a private school, a staffed medical facility, a picnic area, and a world class, museum grade, gems and minerals collection.  I was awestruck. It was no wonder to be that SAS was considered one of the top five or so places in the world to work at that time, before that time and up to and including, now. In fact, at the opening of the SAS Global User Forum and Executive Summit on Sunday night, the Great Place to Work Institute gave them an award for being their choice to as the #1 place in the United States to work.  It was no wonder they had an attrition rate of south of 2% routinely when it came to staff churn.
But at the time, there were several things that puzzled me and even disturbed me. The world was starting to boil as a very clear cut new communications revolution began to emerge and people in their customer clothes were beginning to think quite differently how they wanted to both think about the purchasing decisions they made and second, how they trusted – and who they trusted.  It wasn't that hard to recognize. The presentation I gave to the internal group of about 100 database marketers, thanks to the really smart and very good person, Marketing Director, Deb Orton who brought me there, was on the death of the 4Ps.  Marketing was clearly changing and what had to be done to accommodate those changes was emerging.
Yet, in the public domain, SAS was peculiarly immune to the changes. They didn't really respond to them in their advertising campaigns. They didn't participate in the new communications that their competitors were jumping in on.  They had such a loyal customer base and such committed employees that they were pretty much being assured growth of some kind regardless of the world roiling around them.  In fact, I remember I thought of them as a wonderful but insular organization living in a real life version of an Oz of their own making.
But this company of 250 products if nothing else, was serious about its products and about using them to see what was going on in the world.
I'm not sure what the actual motivation was but I have to tell you right now that not only has SAS released a truly excellent social media analytics product – a unique one in fact, but they have attacked the market and their own culture in a way that has transformed the company to something new and perhaps equally as good as their "place to work" accolades indicate.
The Product – An Analogy
In France, there are what many think might be outdated, but nonetheless influential classifications of Bordeaux wines. The classifications go like this – in English – First Growth, Second Growth, through Fifth Growth. Most of these were classified in 1855 with a few exceptions, but all in all they are the ne plus ultra of wines. If you make the grade at one of these levels, you are golden.  For example, Chateau Lafite Rothschild is a First Growth from the district of Pauillac.
But there is one wine that stands out so greatly from the pack  – a Sauternes – a dessert wine – Chateau D'Yquem.  It has its own classification above First Growth as a unique product.
While I like Chateau D'Yquem better than I like SAS Social Media Analytics – especially after a great dinner – the product that SAS put on the table has a unique character that stands out in the market as, at this point, one of a kind and thus doesn't have anything to compare against as of yet.
The Product – for Real
Don't get me wrong. It will have competition. It may even be bested by someone if SAS gets complaisant (though I'm not feeling that right now, know what I'm sayin'?) But, at least for now, you can't compare this to any product on the market.
First, let me tell you what it isn't.  This is not a social media monitoring tool on the order of Radian6, ScoutLabs, Attensity, or any of the 170 roughly other SMM tools out there (see Nathan Gilliatt for the best aggregate look at the SMM market).
Am I say that the Social Media Monitoring tools do NO analysis? No, I'm not. There are products like Attensity that do some – and in fact, in the case of Attensity classify themselves as Voice of the Customer products. But what SAS SMA does better than any of them is social media analysis with enterprise class depth and a surprising ease of use. At this stage, none seem to compare.  I say "seem" to compare because I have to provide a caveat since this is a brand new product with not a lot of customers yet so it doesn't have the seasoning.  But its something like Jason Heyward, the Atlanta Brave's red hot rookie, who is called the J-Hey Kid because Willie Mays, one of the greatest baseball players in history was called the Say Hey Kid. He has that potential and shows flashes of it all the time.  Just like SAS SMA.
What It Is
What makes this a great out of the gate start for SAS is that they thought through all the components in a way that makes this, as the always astute, the redoubtable Esteban Kolsky calls it, not just a solution (which is what SAS tends to think about it as) but a platform that is eminently configurable and customizable.
In developing this product (I had the pleasure of doing a day of paid consulting at SAS HQ in February so I got an early view of this thing), they considered all the requirements of companies in a contemporary environment. As key product development leader Marc Chaves put it "We worked from the end back."  They identified what the customers would likely want from the solution and did it by, gasp, talking to some of their customers to find out. Initially, they concentrated on the hospitality industry and the financial services industry, both high touch, both with clearly measurable objectives on what they wanted to monitor and both with specific and identifiable taxonomies, which were especially important in how sentiment analysis algorithms were developed.
Once they were able to figure out that (I may not be getting the exact order right, much of this was done in parallel) out, they took some real care in trying to figure out the communications channels for the customers in those industries. Obviously, they drilled into the usual – Twitter and Facebook – but they also smartly allied with third party data sources who monitor things like threaded forums and user groups.  So they didn't do what everyone else did, they actually figured out how to handle the less traveled and less sexy , but still conversation heavy traffic in alternate channels.  That way they nailed the traditional, structured data sources like Reuters, the now popular unstructured data sources like Twitter and blogs, and the less known but still really important data sources like those threaded forums.
But they didn't stop with that.  They understood this wasn't strictly a matter of a singular quantitative approach to how influence works. They knew that what defined an influencer on Twitter was not the same as what defined it on Facebook.  So their approach to each, for example, is different, in how an influencer works.  More on that later.
They also understood two other things of real import. First, they are a company that has historically dealt with the enterprise so they had to scale to the enterprise. Second, the enterprise was increasingly looking at delivering solutions in the cloud or at least on demand – while, of course, the product development environment at SAS was more on premise focused, though not strictly. They had other on demand products like Customer Intelligence on Demand, for example.  But they understood, not just for the delivery requirements of the customer's IT department, but for their own flexibility in developing the initial rules, roles, taxonomies, etc. the model for on demand was better suited than on premise.
They didn't stop with just those bits of engineering either.  To put it politely, SAS was never known for the beauty of their products.  No catwalk or runway for them.  But they spent serious production time in developing both a pretty attractive interface (its still not beautiful, but it is nice) and an eminently navigable, easy to use interface that was appropriate for actual human use.
Here's a screenshot of a dashboard that can give you the idea.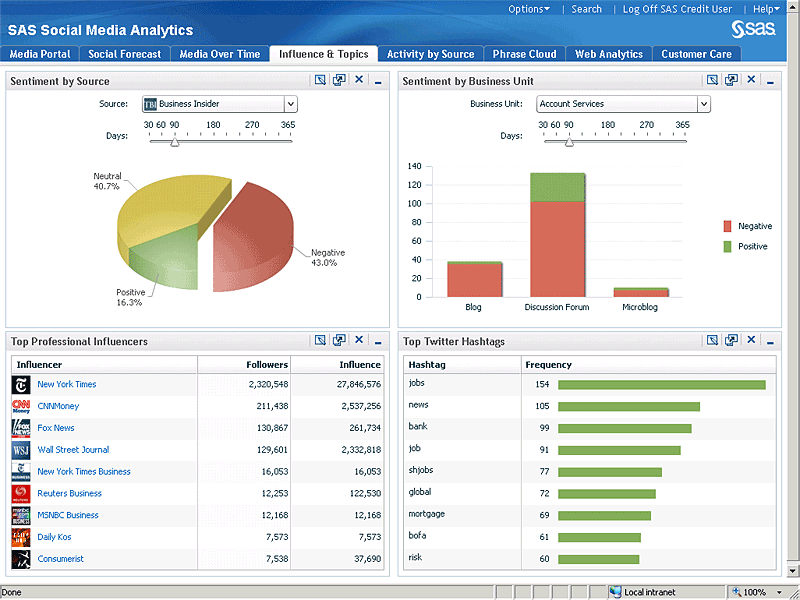 First, note one important thing. As stated above, this is a readable, attractive dashboard. And it comes from SAS, who, to put it somewhat mildly have been, shall we say, graphically-challenged over the years. Not this puppy.  This dashboard can be understood by anyone from the beginning. The deepest parts of the analysis are not that visible but what you need to know at a glance – the purpose of a dashboard – is right here.  Note something else, On the top you see pull down menus – one called source, another, business unit. Underneath it you see Days.  So the way you can change what you're looking at? Pull down a source or business unit name, move the slider on days or go to another tab and something new is there for your perusal. Easy.
Okay, I'm not waxing rhapsodic.  This isn't art. Its software. But it is pretty nice and step forward.
The other three things that make this an excellent product out of the gate?