One of the watchwords of the 21st century, at least for the first decade, has been innovation. In a world that's clearly changing all around us at an ever increasing rate, actively pursuing new innovation has usually seemed like the best way for companies to ward off any accumulated failures to adapt to new realities. This is another way of saying that organizations deliberately seek new ideas to avoid disruption and find continuity into the future. It's one reason why most Global 2000 firms have active innovation programs of one kind of another, even if they aren't always very good at taking advantage of them.
When markets change and the economic rules evolve — as they always do — companies that have an excessively vested interest in the status quo don't bend or adapt to new ways of doing things. Instead, they usually break. This has been called the Shirky Principle, namely that "institutions will try to preserve the problem to which they are the solution." When you have a global business environment in this state and a sharp bend in the road appears, many of them will go off the road.
Thus we find ourselves in a postmodern world that has recently undergone significant and tumultuous changes in some fundamental assumptions. These have largely been brought about by the difficult and very real consequences of following outdated, inadequate, and/or poor ways of doing business. Given the vast changes in the business landscape today and impacted by financial meltdown, a worldwide downturn, rapid globalism, an upended business equilibrium, and new pervasive global forms of communication and cooperation, the Great Recession now appears as a major signpost on the way towards a fundamentally new operating environment for most organizations. It will take years for most institutions to adapt to this new reality, and many won't make it.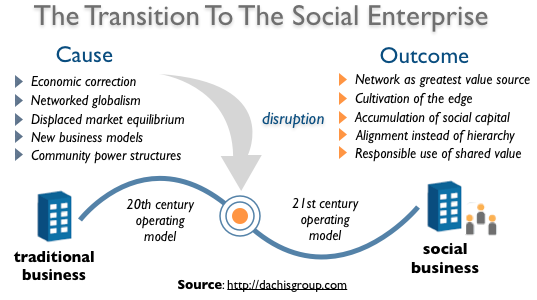 New Business Forces
So what are the new economic models that are emerging today? While no one fully knows the answer yet, there are some clear candidates: Peer production instead of central production, community-based networks instead of management hierarchies, nearly free real-time global data flows instead of expensive and ponderous data silos. There's now pull instead of push, and social business models to augment traditional business models, and perhaps most important of all, the lowest barrier to creating network effects (i.e. shared value) in history. For most of us now, there's an entirely new set of opportunities lying on the other side of the transition to the 21st century, if we only have the lens in which to perceive them.
With an economic environment beginning to come back from the brink and businesses planning for significant growth in many industry sectors this year including information technology, we're facing the potential for a broad return to the status quo for some organizations, at least for a little bit longer. But more change is just around the corner and it's time to lay the strong foundation for what's coming.
Most of you that follow my writing and research know that we're seeing social business as a major player in the way that we organize and operate our institutions of the future. Many of the macro forces at large in the business today are driving organizations to achieve new efficiencies. Harvard Business Review's terrific Umair Haque made a similar point recently about the better operating conditions and dramatically reduced business impedance in an era of growing information abundance and profound social transparency:
What's different, immediately, about a hyperconnected world is that information flows much faster and more freely. So it's less costly to ascertain who's really evil — and who's really good. So the first force [in modern economics] is information.

Cheap information lays the foundations for more collective action. It's less costly to punish those who are evil. Equally important, it's less costly to reward those who are good.
The point is that today's organizations are the subject of growing collective intelligence (both inside and outside) and rapidly flowing information of a volume and inescapability that is just now starting to be felt. And there's a long way to go yet. Some will call this accountability and others will call it tyranny, but what it really is, is far more efficient market forces.
The modern enterprise will be a truly dynamic and social one that is far more deeply integrated, responsive, and porous than most of us can imagine now. To get a sense of what this might look like, I've explored the modern reinvention of business in terms of next-generation enterprises and other strategic models such as crowdsourcing, online community, social business, and many others. As far reaching as these concepts are, they are just the beginning but at the core is the concept of social business embedded in the foundation of today's rapidly evolving networked economy. This was also the subject that Caroline Dangson covered very well here recently in Shepherding Social Business Design, and I encourage you to study it.
As for the disruptive transformation in the title of this post, I am referring to self-disruption, before the world does it to you. For most of us, avoiding the long-term consequences of the Shirky Principle will require discipline and vision, and sometimes more of it that we can muster. More to the point, self-disruption is what allows companies to successfully reinvent themselves and be resilient over the decades.
The Case For Disruptive Transformation
This era's particular and most significant transformation for most companies will be towards a social enterprise. The case for it is as follows:
Value comes from the network. The vast majority of value inputs to businesses in the near future will come from outside the organization and through new networked channels. We must deeply engage with these new value sources.
Cultivation on the edge. The "edge" being the most decentralized part of the network. The best ideas and inputs will be far more transparent, both easier for you to spot and for your competitors to capture as well, both internally and externally to your organization.
The rise of social capital. Building good products and providing quality services will be important, as will creating financial returns. But the most valuable resource that a person or company can have in the future is social capital, the sum of the deep relationships they've acquired over their lifetime in the networked economy.
Alignment instead of hierarchy. This is sometimes referred to as social calibration, where it is less important for businesses to use traditional methods to force collaboration in the workplace, such as edicts or financial incentives. Workers become socially engaged and find that collaboration and their growing investment in building social capital provides the best results for themselves and the organization. Social enterprises will have a corporate culture that naturally moves towards common, yet highly dynamic goals with little collaborative friction.
Responsible control over shared value will define success. As many organizations have learned the hard way on the Internet, network effects are the new market share. Whoever has the best data or best community on the network, will win since they are all equally accessible. While open source software was the opening salvo of this, with Web 2.0 sites built on user generated content the one after, the future is going to consist of more nuanced organizations that combine traditional business savvy with these new social models for the greatest overall benefit of their participants.
What all of this means for the average organization is that a lot of change is coming. Most companies have now experimented with the early and relatively primitive forms of this revolution including basic social media like blogs, Facebook, Twitter, online video and so on. But the versions of these for the social enterprise are much more profound, focused on results, and far more powerful, starting with the concepts of Enterprise 2.0 and beyond. In the same way that some early Web sites went on to become e-commerce juggernauts, the consumer world of social media is giving rise to something very important and even more significant: social enterprises.
Of course, we are all still learning what much of this will really mean but it's clear that disruptive transformation is on the menu for most of our organizations, just hopefully of our own volition.
I'll be more deeply exploring the emerging social enterprise, both here and elsewhere. In particular, I'll explore specific examples and case studies in the near future. As always, please send me your stories if you'd like to share them.