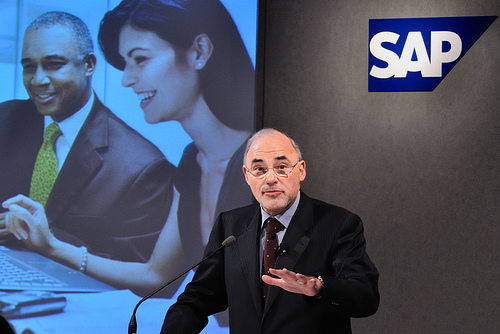 In the aftermath of a relatively decent Q3, all things considered, that nonetheless earned SAP the wrath of the stock market, it's important to take a look at what SAP, its customers, and its competitors have to look forward to as CEO Léo Apotheker rounds the end of his first full year at the helm.
And it's far from the dismal outlook that a number of analysts, and the equity markets, are ascribing to SAP. Indeed, at a moment when many are questioning SAP's continued viability as the only pure-play enterprise software giant left standing, there's actually a lot to be said for letting SAP be SAP in a market full of hardware vendors, PC software vendors, and service providers that also happen to dabble in enterprise software.
Importantly, I see 2010 as a major battleground year not just for SAP but for SAP's now unique business model as well. And, far from counting SAP out, I count them very much in for a fight they have a strong chance of winning.
Let's start with the competitive landscape. I think there's been a major defocusing of Oracle's enterprise software energy in the wake of the Sun-to-be acquisition. Count the time devoted to applications in Larry Ellison's Open World keynote versus his hardware time. Factor in the appearance of Marc Benioff at Open World, apparently approved at the highest levels, which could only send a signal to Oracle's apps team that there are other agendas more important than maintaining a consistent competitive position in the CRM market. And then look at how much revenue applications are making at Oracle relative to the database side of the business. Oracle is many many things today, and in some ways that's becoming a problem at Oracle. And an opportunity for SAP.
While there is something to be said about having a complete, turnkey hardware, database, and applications offering for the beleaguered CIO, it's not clear to me that complex enterprise applications can be sold that way. Or, I should rather say, those apps that can be sold that way should really be sold on-demand, at which point Oracle/Sun begins to make much less sense than many thought. And a distraction from pushing its forthcoming Fusion Applications into this on-demand opportunity.
The other problem with Oracle/Sun is that IBM is now the new foil for Larry's marketing machine. I admit I'm perplexed by this, I had thought that Java would bring the two closer together. Maybe Larry thinks that Java makes Oracle so important to IBM that it will forgive the fact that Oracle is now offering a $10 million bounty to anyone who can beat Oracle's new Exadata TPC benchmark running IBM hardware and software. Most importantly, I think Larry has actually taken a swipe a major ally and in the process may have given SAP some important cover.
The identity problems at Oracle belie the serious, sound work that the Oracle apps group has done with both Applications Unlimited – the core apps – as well as Fusion. These groups are executing well, and doing so in a serious and competitive way. The only problem is that the rest of the company isn't necessarily on board, putting the full weight of Oracle behind its enterprise apps. And this gives SAP some hope that they can successfully fight Oracle in 2010 by eschewing the confusion of vertical integration for the focus of an applications-only strategy.
Speaking of conflicted competitors, Microsoft's continues its focus on its Azure cloud infrastructure, which is becoming the nexus of some very original thinking and some exciting market leadership that can and will make a difference in the enterprise software space. It's hard to say the same thing about Microsoft's Dynamics, which has been struggling with its innovation strategy and market position for the last two years.
The recent announcement that Microsoft was buying the IP assets of some of its partners pointed out a major strategic weakness in the company: key go-to-market innovation tends to come more from partners than from inside Microsoft, and, with a partner ecosystem that is largely made up of small and geographically isolated ISVs and VARS, Microsoft is going to have trouble playing innovation brinkmanship with SAP's largely internal development efforts (aided by the Business Objects acquisition, which is making more and more sense as the months go by) and Oracle's M&A plus internal innovations. And the expected re-entry to the market of SAP's Business ByDesign in the next year will make Microsoft's competitive position all the more difficult to maintain.
Then there's IBM. With Oracle now on its case, IBM's position as an SAP spoiler is less certain than it was earlier this year. The spoiler position is still there: The Rational team is playing for some serious stakes in the SAP market by promoting its software management tools as a means to not only manage complex SAP engagements(good for SAP) but also disengage SAP customers from SAP's vision of business process excellence in favor of IBM's primacy in that regard (much less good). The Rational group is being very careful to talk the partnership talk, but underneath the hood there's a very serious threat that IBM, via Global Services, will own the business process layer that sits on top of SAP (and the rest of the enterprise software market). This, of course, wouldn't be exactly the best for SAP, or any other enterprise software vendor (et tu, Oracle). But if Oracle huffs and puffs at IBM's front door loud enough, IBM may find itself more willing to support SAP than ever before.
So, competition-wise, I think SAP is in better shape than many believe it to be. Bear in mind that, in parts of the market, this is not a zero sum game for SAP and its major competitors. This is especially true in the mid-market, where "other" still dominates. Nonetheless, I think SAP should really emphasize its position as the last pure-play major enterprise software vendor left, and play for the zero sum game that everyone else does: applications-only is an asset in terms of focus and purpose, not a liability, and should be played as such.
Behind this pure-play enterprise apps position must come a stronger emphasis on innovation than ever before. Stronger is the word, because, no matter how much SAP seems to push the innovation marketing button, it gets characterized as a big, back-office behemoth. This despite such innovations as in-memory database (wonderfully showcased as part of the Explore BI tool) and Business ByDesign (which everyone forgets is actually an amazing piece of innovation in terms of user experience, model-based design, and deployment options), the promise of some interesting on-demand offerings from John Wookey's team, and more than a few other things being cooked up that hopefully will see the light of day in 2010.
SAP in year two of the Reign of Léo needs to be recognized for the innovator that it genuinely is – and that means getting these innovations out in front of the company and its messaging as much as possible.
Also needed in year two is a new emphasis on partnering. SAP recently published the first few chapters of set of much-needed, and well-articulated, guidelines for ISV partners that, when finished, will spell out in black and white the steps an ISV needs to take in order to become a full-fledged partner. One important chapter that hopefully will be written soon is the one that spells out SAP's commitment to making the partnering process efficient and effective for small and large ISV partners alike. SAP is in danger of losing its ecosystem edge to Oracle, which has recently discovered the value of an active ecosystem strategy. Putting its process and commitments in writing will help make SAP's ecosystem fill in the white space between SAP's own apps and thereby better meet the needs of its customers.
The next year also has to be the year in which SAP gets the TCO bandwagon going again. The work SAP started this year with SUGEN was groundbreaking, but the rest of the TCO edifice needs to be completed as well. Making 2010 the year of TCO will help SAP in innumerable ways, including diffusing the market's, and some critic's, single-mindedness over maintenance as well as forcing a more comprehensive discussion about TCO – and maintenance – across competitive boundaries, as opposed to just within the SAP community.
Finally, there's a few neglected parts of SAP's business that need a little more love. CRM is one of them. This is a battleground area of the market that SAP needs to put out in front of the market much more concisely. CRM is a funny business, as much characterized by its marketing as it is by its functionality. On the functionality side, SAP does well, but on the marketing side, there's a relative lack of passion and, frankly, guerrilla tactics, that handicap SAP CRM's efforts against Salesforce.com and Microsoft CRM.
Another area for a little more love in 2010 is governance, risk, and compliance. This is a complicated problem: It's hard to sell a big GRC vision today, mostly for lack of a unified budget item, and buyer, that can be targeted by the typical, elephant-hunting  direct sales force. Rather, SAP needs to look at GRC as a collection of solutions, targeted and sold specifically to line of business owners, that can be assembled into a larger vision if and when the enterprise is ready. There's a lot of market leadership for SAP to lose in this space, notwithstanding a wide range of interesting opportunities.
Finally, there's the casual user. I've spent a lot of time talking about the growing importance of this group as both a consumer of enterprise software and a decision-maker when it comes to deploying one vendor's solution versus another's. SAP gets the challenge of the business user at the executive level  – these users are as hard to please as they are valuable to the vendor that does so – but getting it right now needs to be put into practice up and down the company, from marketing to the field. The awareness is there, but the execution remains to be seen.
All in all Apotheker's second year will start with no shortage of challenges, and in many ways may look like a thankless task. Balancing the needs of shareholders, customers, and partners has never involved so many potential conflicts, conflicts that can be resolved, though not necessarily on the timetable of any individual constituent. Successfully threading that needle and arriving at a market position that works for all three groups is what every vendor in the industry needs to focus on in 2010. SAP may have a better chance than any of the top vendors to succeed at this challenge. The rest, as always, boils down to execution. It's going to be an interesting year.