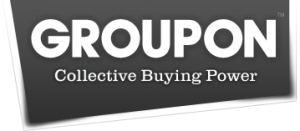 Groupon is getting a lot of attention for their latest round of funding, which values the company "above $1 billion".
Groupon features a daily deal with a huge discount on a wide range of things–from spas to skydiving–in dozens of U.S. cities, including Chicago, Boston, New York and San Francisco, for large groups of potential buyers on the Web, through email or via social networking sites like Facebook or Twitter.

[From Groupon Grabs $135 Million From DST and Battery–Valuation Above $1 Billion for Social Buying Site | Kara Swisher | BoomTown | AllThingsD]
Rather than focus on the valuation issue, which really isn't that meaningful aside from generating a lot of attention and completely screwing up stock options for new employees, I'd like to look at the big picture here, which is the evolving nature of consumer buying behaviors.
Every generation, or every decade if you prefer, consumer shift their spending according to evolutions in retail business models and technology.
In the 1970's and 80's consolidation in retail led to the department store phenomena and urban shopping malls. These not only appealed to population shifts to suburbs but also to consumers who increasingly took advantage of credit card financing for purchases, credit cards that were only available as a result of the scale that department store chains enjoyed which provided access to credit markets.
In the late 1980's and 90's the warehouse club reigned supreme, offering strongly discounted goods offered in bulk or bereft of packaging that appealed to families and commercial entities. I also group Walmart in here because they, like Costco, built a business on direct to manufacturer relationships, white label, and technology driven logistics advances that resulted in an ability to offer lower prices than competitive retail channels.
The 1980/90's also saw the rise of the Home Shopping Network on the backbone of expanding cable and satellite broadcast television
Late 1990's and into our current generation is clearly dominated by .coms, I don't think it's necessary to say more beyond that.
If Groupon is an indicator of the next generation, group buying is a major trend that offers the potential for big consumer benefits and the ability to build a highly valuable businesses as a result.
Groupon is not alone, Gilt and HauteLook have built enviable businesses generating in excess of $100m in annual revenue by offering a club like shopping experience for fashion. Winestilsoldout.com and Cindarella Wine have really interesting concepts, offering 1 premium wine per day until it is sold out… essentially becoming a channel for wine labels to "dump" product not moving through their retail channels without impairing their existing channels.
Mobile coupon services like Mobiqpons also stand to gain from the expansion of location based mobile services, offering great convenience and cost savings for users.
All things considered it is a good time to be a consumer, intense competition in the marketplace is forcing a reshaping of the landscape for every retail segment.