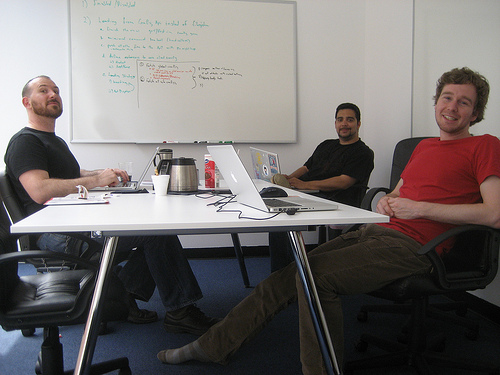 In this inaugural episode, I talk with the developers next door to RedMonk Austin (see picture above – Charles, Mando, and Daniël) about their use of Ruby on Rails as a front-end layer. We spend a lot of time discussing UI toolkit choices and customizing, JavaScript and Ajax coding, using rails as sort of glue-layer to their UI, and heavy GUI development. Additionally, we talk about Pivot and Visual Studio 2010.
Download the episode directly right here, subscribe to the feed in iTunes or other podcatcher to have episodes downloaded automatically, or just click play below to listen to it right here:
End Note
While doing RIA Weekly I've been passing on some great chances to cover more general software development topics. Also, I've been falling behind on keeping RIA Weekly, well, weekly. Last week, I decided to kill two birds with one stone and start a new podcast. I'm calling it make all and if you think that's even remotely funny, it's probably a good podcast for you. Be sure to subscribe to the podcast feed to catch all the new episodes! As the name implies, I want it to be about all sorts of programming, coding, and the more nerdy side of software.
I'll still be doing RIA Weekly for sure – I'm just going to fold it up into this new podcast – a sub-show if you like. Hopefully this will mean more, regular content instead of the blockage I currently have. In truth, RIA Weekly has been trying to expand beyond its RIA beginnings for awhile and the more recent episode show that in an exciting way.
If you've got some development topics you'd be interested in seeing, pass 'em along. I'm looking to make this more of a variety show (lots of little segments) than my usual gonzo, long-form style – so I'll be on the hunt for lots of little conversations in addition to the longer ones as in this first episode.
Disclosure: Microsoft is a client – see the RedMonk client list for other clients mentioned.