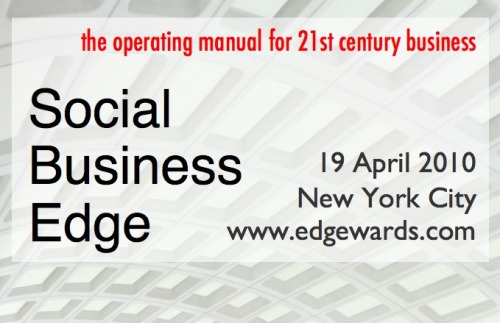 Dion Hinchcliffe and I were in New York this week and stopped by Stowe Boyd's Social Business Edge conference. Much in the same spirit of our own Social Business Summit in Austin, this conference was a single day and densely packed with some of the best speakers I have heard in years. The speaking slots were kept short and the pace was fast.
Both Dion and Lee Bryant from Dachis Group spoke. We will be linking to videos of their talks as soon as possible.
The topics that the speakers touched on varied widely, from the future of news ("The press, the means by which a free people tries to inform itself is what I care about. The media can live or die."- Jay Rosen) to viewing business as a biological model ("If you look at a biological model — new mediums bias certain types of behavior and constrain others. People who can maintain and develop significant numbers of connections will be more highly valued over time." – Joshua-Michele Ross).
As always, John Hagel was able to really tie a lot of the thoughts of the day together. Most significantly he spoke about a shift from "knowledge stocks" to "knowledge flows". We have done a significant amount of thinking at Dachis Group about this very concept, and it is what we call the Dynamic Signal. We incorporate Dynamic Signal thinking in to all of our work.
Communication as work, not for work
With Social Business Design, communication becomes an integral part of how workstreams relate to one another allowing decisions to be made with fresher information. Businesses progress towards strategic goals, under the assumption that all activities are on a "need to know" basis – and anyone and everyone needs to know, all the time.
John asserted that the economic incentives that drive our work are changing for the individual, and the pace of business itself is changing. That means that we have less incentive to store knowledge to be accessed later, but that there are increasingly powerful forces that create a need for the immediate sharing of knowledge in an organization.
As the world speeds up, stocks of knowledge depreciate at a faster rate. As one simple example, look at the rapid compression in product life cycles across many industries on a global scale. Even the most successful products fall by the wayside more quickly as new generations come through the pipeline faster and faster. In more stable times, we could sit back and relax once we had learned something valuable, secure that we could generate value from that knowledge for an indefinite period. Not anymore. – John Hagel
Euan Semple, who spoke via video, reminded us that these are all deeply personal changes for the individuals who have to work and live using these tools and concepts. "To protect myself, I started wearing a tie and talking funny." Euan said of a past job before he reminded us that:
"People can relate to places that have emerged. Things that are too perfect are inhuman in their scale. You don't feel at home. That is how corporate IT systems have been built, and we don't want to spend a lot of time hanging around in them."
Social Business Edge was about the future. What is the future of business and how do we get there? What I noticed however was that the conversation was very much rooted in the realities of business today and each vision of the future of Social Business is being supported by more and more relevant data.
Thank you to Stowe and all of the speakers at Social Business Edge. We were proud to sponsor the event and we are looking forward the next one and to a Social Business future.