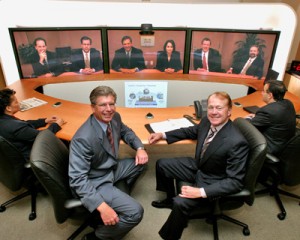 You'd think that not being able to fly to meetings across Europe the past week would have given the webconferencing and telepresence industry a big boost. But although there has, out of necessity, been an increase in remote meetings, there's no evidence as yet of any big surge in long-term adoption as an alternative to in-person meetings. Some will say that's a shame, both for the industry and for the carbon footprint of the international business community.
Cost and unfamiliarity are both obstacles. The lifelike experience of high-end telepresence systems doesn't come cheap. Systems that cost less offer a less of an immersive experience and take more getting used to — not simply setting up and operating the technology, but also coping with the behavioural adjustment that's needed to make the meetings productive.
European ministers experienced some of these obstacles at first hand in two high-level meetings that took place over video links after travel had been ruled out.
On Monday, Europe's transport ministers met by videoconference to discuss responses to the continuing no-fly crisis. It had taken five days of crisis before the meeting even took place, and with 27 of them on the call, it must have been an unwieldy event to manage. Nor, to be honest, would it have best served the interests of their client industries to have demonstrated the efficacy of videoconference meetings, since if business people were to discover they no longer need to travel to face-to-face meetings, the airlines would lose even more revenues.
You might have expected telecommunications ministers would have taken a more positive attitude to teleconferencing, but not a bit of it…