Lawson External Cloud Services Represents A Big Step In On Demand ERP Options
On March 31, 2010, Lawson Software (Nasdaq: LWSN) announced the Lawson External Cloud Services offering.  The venerable St. Paul, Minnesota vendor plans to deliver the full ERP Suite including Lawson S3, Lawson M3, and Lawson Talent Management via Amazon's Elastic Compute Cloud (EC2) infrastructure by May 2010.  Key highlights of the announcement include:
Full feature ERP offering. Lawson will include its full suite of products from both M3 (i.e. Intentia heritage), S3 (Lawson heritage), and new offerings which includes strategic HCM, Finance, enterprise performance management (EPM), supply chain management (SCM), corporate social responsibility, equipment and service & rental, and enterprise asset management. Point of view (POV): Lawson makes a significant investment in providing a new deployment option for its solutions.  Customers will lower IT costs, reduce time to deployment, and maintain ownership of the software using Amazon EC2 in the back end.  The result is a single instance approach to cloud delivery focused on IaaS (see Figure 1).  Virtualization provides the key factor in cost savings.
Focus on mid-size companies looking to reduce time to market. Lawson specifically calls out how mid-market organizations can gain scale with security, computing capacity, and lower cost infrastructure.  Organizations pay for only the infrastructure they need. POV: Mid-size organizations gain the benefits of large enterprise solutions without the costly overhead of installation and deployment.  Prospects and customers can expect the hosted software to include centralized admin, faster installations, single technology stack, scalability, and faster time to value.   Mid-size customers can free up funds to focus on process design and business transformation.  However, there's no reason why a large enterprise wouldn't want the same advantages.
Introduction of Lawson Test Drive. Lawson Test Drive gives customers the ability to try before buying Lawson products for up to 14 days.  Customers can try out two of  Lawson's latest products, S3 directed Smart Office and Lawson Enterprise Search. POV: Lawson Smart Office and Lawson Enterprise Search take advantage of Enterprise 2.0 UI/UX prinicples and really change the user experience for customers.  A 14 day trial may be too short for customers.  Prospects should push for 30 to see how powerful and pervasive these solutions can impact user productivity.
Flexible pricing options. Lawson offers customers the ability to start out with subscription pricing and convert to perpetual at the end of the subscription contract.  Customers retain flexibility in choosing their deployment models. POV: Choice and flexibility to the procurement process deliver the strongest argument for Lawson's External Cloud Services.  Customers can start with annual subscription, rent to own, and then convert to a perpetual license with a traditional one-time payment.
Figure 1.  Lawson's Cloud Offering Reduces Infrastructure Costs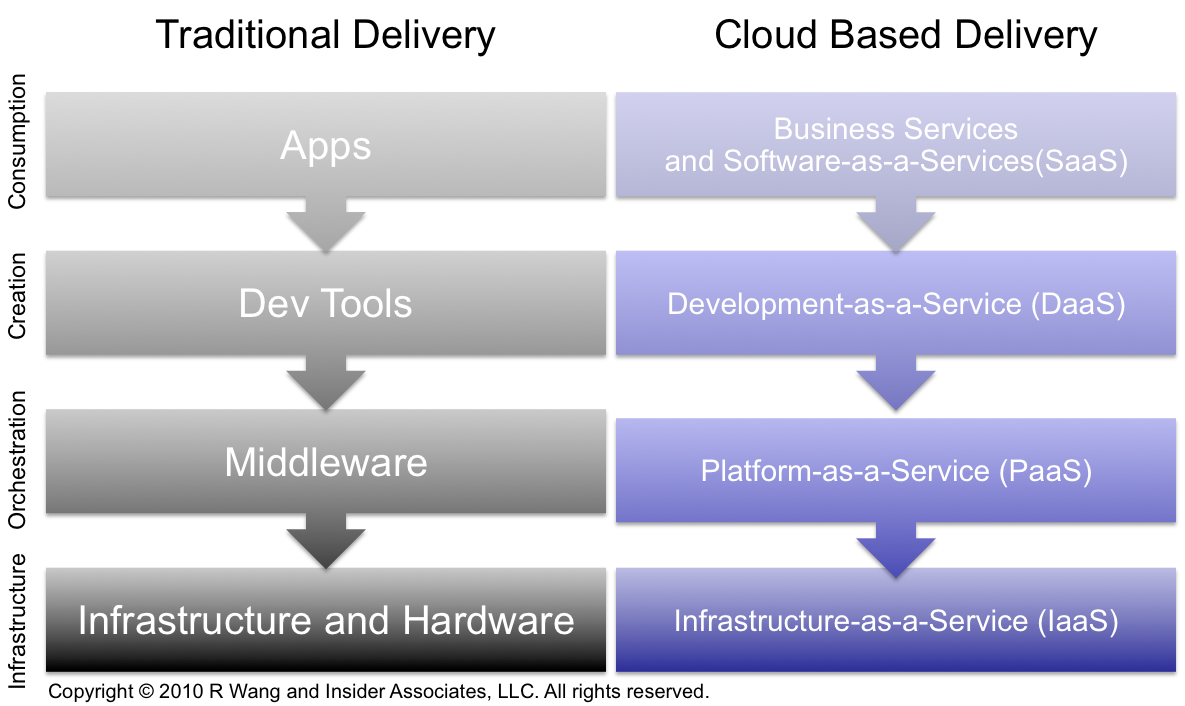 The Bottom Line For Customers – Check Out The New Cloud Deployment Option But Don't Confuse This For SaaS
Copyright © 2010 R Wang and Insider Associates, LLC. All rights reserved.