I have been writing about and working with open supply chains for some years now, specifically how businesses are increasingly opening up their borders to much more dynamic, scalable, and valuable supply chain and partnership scenarios. Up until recently, the story of advancement when it came to supply chains has been one of technological improvement. Most recently, large enterprise suites and hand-crafted proprietary solutions have started to give way to SaaS and cloud approaches to supply chain management, which will be state of the art much sooner rather than later.
However, of late the Web has begun paving the most promising path to how we connect to, exchange information with, and consume our enterprise supply chains. Specifically, this has included the rise of a new generation of truly workable B2B exchanges and the first serious business-oriented open APIs from traditional large institutions (such as from the World Bank, the federal government, or Best Buy, instead of only from the Internet startups that pioneered them.) Thus, Web technologies — and to only a slightly lesser extent the Internet itself — are moving to the center of the supply chain story.
The Web as a supply chain exemplar
The Internet version of all these trends could be said to have culminated in recent years in the concept of the mashup. These are products or services created entirely out of the components of other businesses and where ingenuity and insight are the single most important ingredients. In this world of on-demand supplier integration, the primary supply chain inputs of mashups come from somewhere else and not the integrating organization.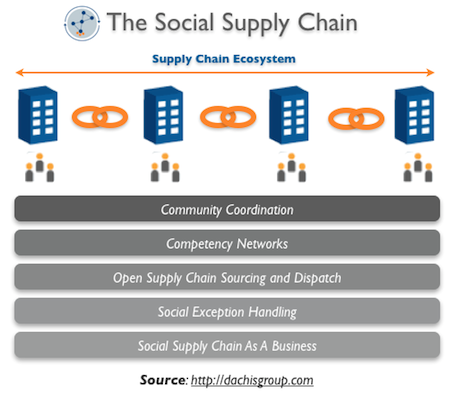 Over the last five years, this evolution has mostly been an online invention, though enterprise mashups have been a steadily growing phenomenon during this time as well. The lesson is that the agility and profound interconnectedness of the Web has reinvented our ability to weave our businesses together to satisfy our stakeholder's needs in countless ways. And it's about to happen again.
As the next generation of supply chain concepts are being proven in the living crucible of the online world (mashups are now de rigeur on the Web and no longer remarkable, for example), it has shown how much more there is left to do as we connect our enterprises to the inputs and outputs that are their motive force. Web 2.0 ideas have been used in the last half-decade to update numerous enterprise sectors including collaboration, knowledge management, SOA, CRM and so on. These same approaches have also been used to expand and improve supply chain management to some extent. However, we are now seeing a significant cross-over of today's modern Web into the very lifeblood of the operating logistics and component flows of enterprises today.
What does this mean precisely? As a result of these and other related trends, supply chain management is now undergoing another major transformation: It's going social.
For lack of a better term we can call this evolution the advent of social supply chains and it will almost certain drive new efficiencies, productivity, agility, and innovative possibilities like many 2.0 advances have done in other enterprise specialties.
What's in a social supply chain?
As an important part of an overall Social Business transformation, social supply chains will offer new ways to engage the processes, methodologies, tools, and delivery models of their supply chain management efforts. The complexity and speed of today's enterprise supply chains — due to the effects of today's intense global competition, rapid price and currency fluctuations, rising energy and transportation costs, short product shelf lives, demand for mass customization, off-shoring, and talent scarcity — are all posing serious challenges for 21st century organizations trying to balance the complex equations that govern and guarantee the healthy operation, growth and evolution of their organizations.
Social supply chains can offer compelling new solutions to most (if not all) of today's supply chain challenges for the following reasons:
Successful development and use of competency networks

that have deep social reach into supply chain domain expertise. These will enable major improvements both organizationally and operationally by collecting and tapping into the collective intelligence needed to meet both day-to-day and strategic level supply chain requirements.
Development of

social supply chain sourcing and advanced B2B supply chain services

that can be activated and harnessed in real-time to solve problems and meet challenges dynamically and effectively. Today's Web APIs, which are directly made successful by the developer communities that make them up, will be transformed into enterprise social supply chains made up of partner communities and novel new network coordination systems.

Social exception management

will become the norm, as dynamic signals are propagated by a social ecosystem that is instrumented across the entire enterprise supply chain. Microblogs will be the beginning of this for many organizations, but so will social search, analytics, and other advances that will make sure all available knowledge is used to meet emerging challenges and needs.

Social supply chain as a profit center

and a business in its own right. Most companies are not yet ready to OEM their internal supply chain or engage the broader business world in the way that open supply chains have pioneered and that social supply chain will deliver as a functioning capability for those organizations that choose it.
And this is just the beginning of the social supply chain story but it's a good start on broad outlines of this part of the modern social enterprise. Over the next few months, myself and others here will be exploring the benefits, potential, challenges, and early success stories of social supply chains, one of the key elements of an effective Social Business strategy. We'll also be refining this vision and communicating what we're seeing and learning. It's a very exciting time for this important segment of the enterprise.
What else else do you see as part of the social supply chain story? Please leave your comments below.