We choose business partners because of their competency, resources and reliability. They become a critical lynchpin in delivering value to the customer. Whether it is a strategic R&D partner or an independent truck driver moving your good across the continent, isn't it time to think about those relationships in a Social Business Design light?
Some initial questions come to mind:
Can we develop strategies and supporting infrastructure to maximize the capabilities in our business networks?
Would a more transparent approach offer new collaboration opportunities?
Can we create marketplaces through which suppliers and partners can not only compete, but engage with each other?
We haven't yet talked in much detail about our Business Partner Optimization practice at Dachis Group. You have seen a lot of the work, and related acquisitions, from our Customer Participation and Workforce Collaboration practices, but we have also been toiling behind the scenes to develop significant capabilities focused on creating a new model for business partner relationships and collaboration.
What is Business Partner Optimization?
Business Partner Optimization is a re-thinking of the external non-customer relationships that your organization requires to get business done.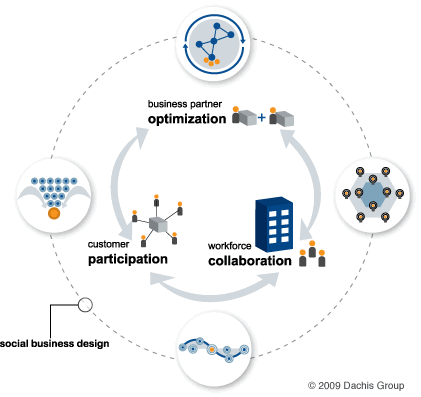 Social Business Design provides a framework to help companies create this new value with business partners towards common goals.
Examples Include:
Evolving the competitive nature of value chain relationships into a jointly-held system perspective will help optimize outcomes for all involved.  Alliances move from defined supplier relationships to a dynamic network of business partners.
Partners are encouraged to innovate within the network to create value.
A social calibration of company and partners leads to higher overall returns.  Business partners operate in a state of ready collaboration to respond more quickly to new opportunities and challenges, and with greater resources.
Content generated via partnership is harvested and analyzed for relevance, providing feedback to the organization which can be used to optimize the nature and quality of relationships going forward.
What's next?
Dion Hinchcliffe started the business partner optimization discussion yesterday with his post The Advent of the Social Supply Chain. Dion has done significant thinking and writing about Open Supply Chains, which represent the first step in a shift towards a Business Partner Optimization strategy.
A complete Business Partner Optimization Strategy represents one component of an overall Social Business Strategy. It should be a key priority for any organization that wishes to leverage Social Business in order to compete more effectively and to deliver a better overall experience and product to customers.
We will be sharing Business Partner Optimization success stories and ideas here on the Collaboratory.
Have you been in the trenches, re-thinking partner relationships? Please tell your stories in the comments below.