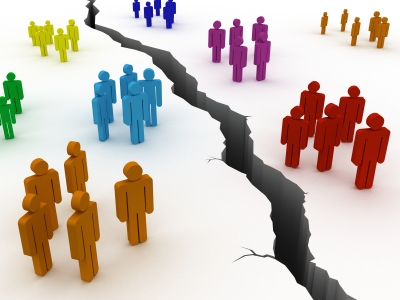 IT failures often arise from dysfunctional communication, collaboration, and planning across information silos and boundaries. More simply, many projects fail because participants and stakeholders are not on the same page regarding shared goals and expectations.
Although there can be many reasons for these disconnects, three reasons stand out:
Circumstances force stakeholders to make decisions based on incomplete or inaccurate information
Participant groups may each have their own unique, and sometimes incompatible, definition of success
Goals, metrics, and expectations among different groups may be defined with mutually exclusive, or even irreconcilable, differences
All this creates corporate initiatives that fulfill process and protocol, but nonetheless result in bad outcomes and dissatisfied stakeholders.
Signs of failure. The Companies Management blog offers a list of ten symptoms that reflect these problems. Here's a quote from that blog:
Project based on CEO's dream, but no one is clear about its business value.
Sponsor is too busy to listen and too weak to support.
Management wants to start working and worry about planning later.
Duration estimates are done by management.
Management directs Project Manager to ignore vague contract terms.
Management warns Project manager about raising issues with clients during planning.
Functional managers are providing the wrong resources.
Clients representative accept work formally but refuse to put it in writing.
Client's expectations are too high and mismanaged by Project Manager.
Project Manager is too worried about losing job or making people angry.
Note that these symptoms are related to organizational, collaboration, and communication issues, with no reference back to technology.
Perhaps it's an obvious point, but many companies become enamored by software and forget that people and process are the ultimate drivers of success. Although technology is an enabler, success on cross-boundary initiatives requires the context of a broader enterprise strategy that synchronizes expectations and goals across stakeholders.
My take. Project success demands highly coordinated activity and information sharing across stakeholder groups; methodologies and process can help, but are not sufficient to actually achieve success. Although most companies use guesswork and ad hoc approaches to decision-making, the best organizations possess consistent techniques to highlight and deal with mismatched expectations on collaborative projects.
Has your company developed impartial, systematic, or quantitative methods to measure mismatched expectations? Let us know in the talkbacks.