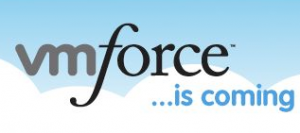 As many of you probably know, salesforce.com acquired Jigsaw a few days ago for an incredible (incredible for Jigsaw that is) $142,000,000. If you don't know what Jigsaw is, be patient, grasshopper, all will come clear in a minute or two.  But  it's an acquisition that seems to have an actual context – not just a way for salesforce.com to spend some of that half billion that they put together earlier this year (or was it late last year?).
Think "partnership with VMWare."  The combination of the two tells me that salesforce.com is making an effort to become not just a PaaS provider, born a CRM provider, but now a complete cloud offering.  They are seemingly the classic components of the cloud to customers.
Platform as a Service – salesforce.com has been in this business for a few years – and has planned this since 2003. Force.com has been the first result of that strategy – with the CRM application that gave them their name the opening gambit.
Infrastructure as a Service – I have to think that the partnership with VMWare is what's going to provide this. Cloud infrastructure is virtual though as Larry Ellison said in his actually very funny monologue at at the Churchill Club last fall, there's a real server somewhere. I guess we'll find out something more on this April 27 or 28 when salesforce.com announces "VMforce." – the name of whatever the partnership of VMWare and salesforce.com is going to deliver.
Storage as a Service – This is still a missing component – though I suppose to some degree its the multi tenant architecture of salesforce.com that provides this – e.g data is stored on the salesforce.com side of the house.  However, what about apps that may be cloud based or data that doesn't reside in a salesforce.com data store?  A document for example? A gazillion lines of code waiting to be compiled?
Cloud Services – The acquisition of Jigsaw is a perfect example of salesforce.com being able to provide an important cloud service – data services.
Cloud Applications – no dearth of cloud applications that's for sure – Service Cloud 2, Sales Cloud 2 and everything that partners are providing on the AppExchange are examples of this.
This seems to be an attempt by salesforce.com to do what they've been promising since 2003 – to be the "Business Web," the cute term which seems so archaic and arcane now, for the place where a business would run all of its business needs. Their vision then was to be the underlying foundation that all business applications would run on – courtesy of salesforce.com  They are continuing to do that – right along the path they defined then – in an extraordinarily focused way, given the ups and downs, crazy veering of most of their competitors as they've attempted to understand and respond to the new social business world.
This is far more serious than their continued announcements of Sales Cloud 2, Service Cloud 2, Custom Cloud 2 and Chatter as the 1st, 2nd, 3rd, and 4th "clouds" as recently as Dreamforce 2009 when in fact, in the context of a cloud they are 2 applications, a platform and a layer in the platform. None of them were "clouds."
What about Jigsaw?
First, I want to congratulate Jim Fowler, CEO of Jigsaw. He's such a good guy, I can't help but be happy for him personally. Sometimes I forget these aren't just business moves that affect "a market" but moves that affect the lives of the people involved. This isn't (and I think shouldn't be) a dispassionate analysis of things that will drive stock prices and impact abstract institutions or forces.  There are human beings involved in this and when they are good human beings I think we (at least I, since that's all I can speak for) should acknowledge how its going to affect them – good or bad. In this case, I have to assume good and thus, once again, congratulations to Jim Fowler…