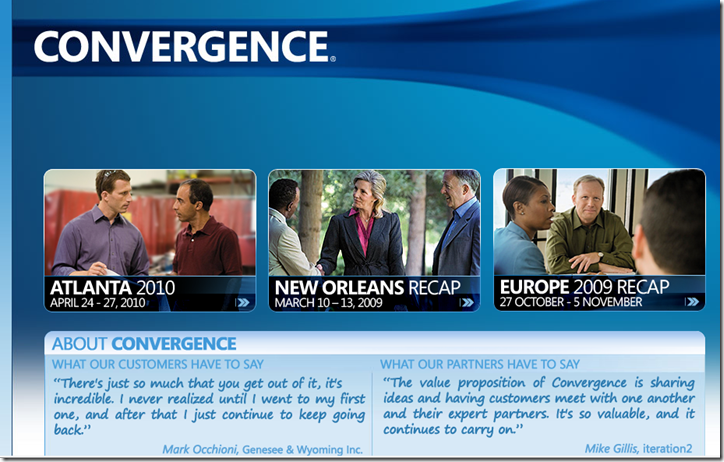 A couple of months ago, I was asked by Microsoft to help them (as a consultant) try to work on their Social CRM program. That included looking at products, messaging and doing some thought leadership stuff. I'm in the midst of that now and thus, have been able to get a deep and advanced look at some of what they're showing at Microsoft Convergence 2010. Plus I've now had the benefit of a couple of days of Convergence. – and I'm getting closer to being able to finally stop saying "I'm a fan of Microsoft but…" But….I'm not quite there yet. Its all in the followup. I'll explain. But first a word from our unsponsor.
First a Brief United Airlines Anti-Commercial
Hi. I'm Paul Greenberg and I fly United Airlines a lot. But I can't stand United. And I keep flying United anyway. I suppose it gives me lots of fodder for bad business ops, customer service, etc. stories – and that's something of a plus for someone speaking on CRM all the time. But worth the angst? You decide. The latest in brief. Bad weather in Atlanta canceled all flights out of Dulles airport to Atlanta on Saturday April 24. I get that one. I go home. I am rebooked for Sunday April 25 at 8:30am. A windshield wiper doesn't work so they have to delay the flight to fix it. I even get that one. But, there isn't a single windshield wiper replacement part for this airplane at Dulles, one of United's hubs, so they have to send someone from Washington Reagan National airport to bring a windshield wiper replacement which of course takes more than a few minutes and i get into Atlanta to my hotel at nearly 1:30pm. A less than two hour flight turns into 5 hours on the heels of being canceled which = United does it again. Simple question. How is it that they don't have such an obvious replacement part in stock at one of their hubs for a common airplane? God, they are stupid. Or poor planners. Or something. Everything but customer friendly or customer smart.
Now back to our show.
Microsoft Makes Tentative Moves Decisively. Wha'?
One thing that's noticeable. The decidedly upbeat tone of Microsoft and the 8500 attendees at this confab. They are genuinely excited at what they are releasing and what they are innovating and the themes here are markedly more in line with what they should be, given the nature of the world right now, then ever before. They are:
The cloud
Innovation
Mobile
Social
Integration
Platform
Even though this conference is all about the Microsoft apps of varying kinds, my key focus is CRM though at this event there was a noticeable thrust at expanding the base and driving deeper into existing customers by integrating CRM and ERP.
First things first. Microsoft is making some changes. They are a bit rusty as "the sleeping giant awakes' but they are, nonetheless, what I think are sincere changes to address the changed marketplace. That was manifested in multiple ways when in comes to Microsoft Dynamics CRM 5.0 – which is to be released year end apparently – I hope. Dynamics CRM 5.0 is a substantial improvement over 4.0 which was probably a qualitatively bigger improvement over 3.0 than 5 is to 4.  There are over 40 additions to the CRM product
and at the same time the intent that Microsoft has to release Looking Glass, a full blown social media monitoring service that could theoretically stand alone and compete with companies like Radian6, who the Microsoft denizens in the know have more than a healthy respect for. I also had the opportunity when in Bellevue at Microsoft Dynamics CRM HQ to see some of the internal things they are doing, which without disclosing them, are rather remarkable. There is NO doubt that they have innovative drive and the interest in doing what has to be done to further engagement with the customers, regardless of job or role in their ecosystem.
Also, make no mistake about it. All the execs I spoke with including those who have no vested interest in just CRM, see Dynamics CRM as the leading application for driving the change across Microsoft. From their perspective, it is where there sales are up dramatically – with a claim that I have no reason to doubt of 1.1 million users currently. But there is another piece that drives it too – Microsoft Dynamics CRM is now considered not just an application that's adaptable either in the cloud or on premise but more as XRM – a flexible platform to build what they are seeing for the future as primarily cloud based applications that would run as you might guess on Microsoft Azure.
This was another pervasive, and actually surprising theme, which I think represents a significant change in Microsoft thinking. In 2008, Microsoft announced Dynamics CRM Live (now Dynamics CRM On Demand) and pushed hard at the idea of the single code base it rested on and how that meant a choice between on premise and on demand was easy. They labeled it the ridiculous name of "Software Plus Services" – which as I commented at the time was a silly way to differentiate oneself from salesforce.com. And a meaningless term. However, now what was noticeable was the absence of "software plus services" and a perspective that said, as did Microsoft Business Division President, Stephen Elop, things are moving inevitably to the cloud and we have to do something to meet that inevitability – and for that we have Azure and we have this flexible CRM platform that can be delivered that way.  I won't go into Azure, suffice to say that it is not only a viable part of Microsoft's portfolio, but will be a major determinant in its future as a market leader. Azure is damned good.
I saw Dynamics CRM in a more primitive state as a platform in December 2008 when I was a judge at a Microsoft partner event where 5 chosen partners were tasked in developing a CRM application on the Dynamics CRM platform in 5 days. Four of the five partners developed genuinely credible apps in that time – highlighting the value (at least for me) of Dynamics CRM as a platform for the first time.
Dynamics CRM a.ka. the xRM platform has come a long way and there have been what I think is hundreds of apps developed on it since my participation in that actually interesting contest.  Which holds some promise for xRM as a development platform – though the competition at this specific level is tough with salesforce.com, NetSuite and others doing something quite similar in their respective ecosystems.
This is all well and good – xRM is a platform and Azure is solid and growing, Sharepoint 2010 seems to be massively improved over Sharepoint's previous incarnations, and there is going to be Microsoft Dynamics CRM 5.0 released before year end.
Outreach would be what I'm talkin' about.
Microsoft has NEVER – at least until now – been good about doing anything that measured up to outreach to customers. Sure they did what most companies did of their magnitude – they pushed things at customers but their interactions were based on traditional marketing and public relations. But going to the customers to communicate with them where they lived and at the same time giving the customers what they wanted – and customers here could be their partners or their partners' potential customers – which was true input and participation in the company's business products evolution – or for that matter – entertainment and media products too. Innovation at Microsoft was occurring – how could it not with Ray Ozzie on your side – but it was secret, internal and only shown to the public when it was polished to the point that it was slick and seemingly finished. They seemed to operate on the principle of "we know that we have cool things but lets just release that which doesn't embarrass us." Additionally, this has been a highly technical company and as ubiquitous as it seems, it has been somewhat insular in its culture and life. They make the area around them wonderful – meaning a great campus, participation the life of the communities that they live in, but they just lacked the vision that makes them willing to take some risks. What they did was make their own lives in a technical environment better but they came off as staid and somewhat conservative.
They lost opportunity as innovation drove the CRM market originally back in the 90s and only entered the CRM market late in the game as an SMB product – and they didn't become the game changer that people like me expected at the time, though they released a 1.0 product that was functionally surprisingly strong (for a 1.0) though top heavy in server requirements.  The product itself has improved since – less server, more and better functionality and its always been a pretty strong product – though the perception is that it was aimed at the SMB market. Interestingly enough, while much of the product was seen as SFA dominant – meaning that's what most of their 22,000 customers were buying it for, I've found some strong stories and a good case for its customer service application too.  A case in point, the City of Birmingham, who I met with at Convergence this week. They use it for their 311 Call Center which handles between 5000-7500 calls a month.  They are quite thrilled with the cost and the effectiveness of the application on the service side. Its power to them is in the workflows which are sophisticated and complex even though the call center is small. They are able to trigger them by simply choosing a context sensitive choice from a drop down pick list.  Not bad.
In any case….
They are also somewhat late to innovation in the Social CRM market, but they have some visionaries now like Nikhil Hasija who has been a friend for 13 years and some active SCRM interested thinkers like Barry Givens who gave a great demo (I hear) at Convergence and some incredibly well versed in Social CRM folks in the field like Menne Te Koppele (known him for 3 years) and Laura Robinson – who do get it and management support from people who not only get it but want to be part of it like Bill Patterson. There is senior management support from Brad Wilson, who is their CRM GM and Michael Parks who is the SVP of Business Applications. And others who are committed to this too who I just don't have the time to mention. In other words, their xRM team a.k.a. CRM as a Platform team is in, ready to play in the SCRM world.
All of that is great. But money where the mouth is should be and must be the operant principle. If you're going to start actually participating in the changed customer matrix we all now have – the social customer's control of the conversation – then you're going to have to do what you do to run your company but understand how you as a company have to play by the customer's rules – which, so the nitpickers don't jump down my throat over the issue of so-called "control" – simply means understand the life that the social customer leads, learn their metaphors and communicate with them on their terms – but don't subsume your message. Okay? Enough, nitpickers?
Microsoft is taking the first steps toward that if Convergence 2010 is any indicator of that. Some of the signs: