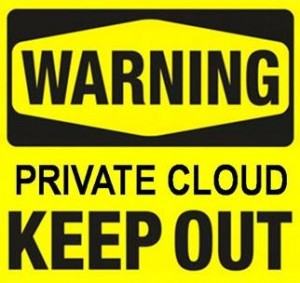 I've not been keen on the notion of private cloud — I think it's often a misnomer, an attempt to pick-and-choose from the cloud computing model in a way that eliminates many of the benefits. But I have grudgingly come to accept that private cloud may have some uses as part of a strategy of introducing cloud computing into a largely on-premise enterprise IT infrastructure.
This formed the subject of my recent webinar discussion with IBM vice president Jerry Cuomo, who is CTO of Websphere, How Can the Cloud Fit Into Your Applications Strategy?, part of the Cloud QCamp online conference.
As I said in the webcast, most enterprises for the foreseeable future will continue to maintain important and substantial off-cloud assets. They can't just switch off the lights, junk everything they've invested in and migrate it all to the cloud in one fell swoop. Instead, they'll introduce cloud computing gradually into the mix of IT resources they draw upon, and as their usage of the cloud increases, they'll find themselves managing a hybrid environment in which cloud-based assets will coexist and interact with on-premise IT assets.
In doing so, they'll have to tackle three different integration challenges:
Migration. Transferring software assets and processes between on-premise and cloud environments. They'll need as far as possible to automate the process of migrating assets on and off the cloud, so that it can act as a seamless extension to the on-premise infrastructure.
Integration. Data exchange and process workflow between cloud and on-premise systems. As a first step, they'll probably rely initially on point-to-point integrations. But they will soon find a need to implement some form of mediation technology if the integration is to remain manageable and cost-effective…