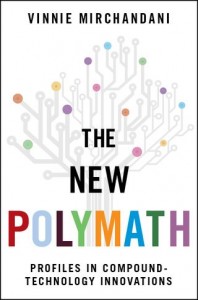 Here is another of excerpt from my upcoming book, The New Polymath due in June. The book is built around 8 "Polymaths" like GE and showcases 11 building blocks for the Polymath to leverage. Each corresponds to an alphabet in the book's  RENAISSANCE framework . The two N's stand for Networks – the first one for telecoms, the other for the "human network" – communities, crowds, collaboration covered here .
When Charles Handy, the management philosopher, wrote his seminal book The Age of Unreason in 1990, he envisaged enterprises moving to the "shamrock organization." The three leaves of the shamrock represent core management, a long-term but contractual talent pool, and a transient,flexible workforce. Handy was prescient, but in his wildest dreams he could not have envisaged that the third leaf of the flexible workforce would have several branches of its own: communities, crowds, and contractors. He also could not have forecast a whole generation of collaboration technologies to "coordinate the shamrock" that Professor Andrew McAfee at Harvard Business School calls Enterprise 2.0. Let's look at how communities and crowds are evolving, how outsourcing is morphing, and how good old-fashioned employees continue to be a major part of what Cisco appropriately calls the Human Network. First, we look at the customer angle of the human network, and then we turn to the talent part.
Paul Greenberg "Social CRM is evolving from this acknowledgment that the customer is increasingly controlling the conversation. Where it differs from traditional CRM is pretty simple. "Classic" CRM was operational—it was based on improving the internal workings of a company, i.e., the processes and even the culture, so they could work on managing the customer's relationships with the company. It was transactional—companies pretty much focused on the purchasing history with the company. For example, an optimal customer was a loyal one—one who had a high customer lifetime value (CLV). Social CRM is not operational—it's collaborative more often than not. It is based on the company and customer's interplay. It's no longer how do you manage a customer but how you engage that customer. What do you do to elevate the experience of that customer? It captures and acts on not just the transactions but the interactions between the customer and the company. It measures not just customer lifetime value (CLV) but customer referral value (CRV)."
How do you reinvent for Gen Y women a 100-year-old model of direct selling? Avon is moving from door to door to Facebook friend to friend with its mark brand, targeting Gen Y women. Annemarie Frank, who leads eCommerce activities for Avon's mark division, says, "My challenge is to go where my target market is hanging out. And guess what? They aren't on e-mail, they're on Facebook." So mark developed a social CRM Facebook application to help its reps engage with their friends. It's was only a matter of time before somebody took advantage of that vibrant 400-million-plus-strong community.
SAP has been cultivating and growing three communities around its enterprise application products—with more than two million members. The SAP Developer Network (SDN) focuses on technical content; the Business Process Expert (BPX) focuses on process, implementation, and solution issues; and the Business Objects Community (BOC) focuses on business
intelligence and information-management topics—more around its acquisition of the analytics vendor, Business Objects.
Jim Spath at Black & Decker (since merged with the Stanley Works) says: "SAP has built out an amazingly lively space for all manner of dialog to commence, not simply questions and answers. SDN has expanded my network of contacts beyond an existing peer circle in the Americas SAP Users Group (ASUG)."
During his work at MIT's Center for Collective Intelligence, the professor (Thomas Malone) and his colleagues have gathered 250 examples of Web-enabled "collective intelligence," including Google, Wikipedia, eBay, Linux, and the
Netflix Prize project. After analyzing these examples, they have identified building blocks ("the genes of collective intelligence," Malone calls them) that are combined and recombined in various ways in different collective
intelligence systems. Figure 17.1 is adapted from a white paper he coauthored and shows how the genes are sequenced for Innocentive, which throws out "challenges" to a scientific community, and for Threadless, which invites its
audience to design T-shirts. Malone explains: "These two genomes are nearly identical. The only difference is the addition of the intermediate Decide by the Crowd in Threadless. For InnoCentive, such a step probably would not make sense, because the company with the problem that needs solving typically would not want the crowd to see all the entries.
Bug's product is an electric base to which you can literally snap in or snap out a touch-sensitive LCD screen, speaker, GPS unit, motion detector, and several other additions. As the company says, there is no need to "solder, learn solid state electronics, or go to China." So what is Accenture, which thrives on complex systems development and outsourcing, doing with something that "uncomplex"? And what is a company that typically avoids much to do with hardware doing with this device? Accenture is hoping its corporate clients use the device with its new Accenture Mobility Operated Services (AMOS) to track fleets and other logistics applications. And, in another departure, Accenture's fees will be
transaction based, not based on its traditional billable hours model.
Bill Kutik: "HR is usually a laggard along with the legal department. Remember the corporate terror that ensued when employees first got access to the Internet. The market boomed in spyware, so HR could make sure employees weren't "wasting time" surfing the Internet. Or when e-mail first arrived in offices, HR fretted that some employee might write
something inappropriate to the CEO! Which really wasn't a problem in those early days, since most CEOs had their administrative assistants screen and print out incoming emails. But there is a tidal wave of change coming. LinkedIn is replacing the old resume for both employers and employees. Tools like JobVite are letting employers create invitations to apply for jobs that employees, colleagues, etc., can publish to social networks like Facebook."
Oliver Marks, who writes the Collaboration 2.0 blog on ZDNet, is focused on the challenge of integrating myriad sources of talent—some employees, some at contracted outsourcers, and some in communities—and the wide range of technologies they communicate with. "It is a jarring contrast," Marks explains. "Today's office is more likely to be mobile technology from a car, or a VoIP call from a home office, but with the continued popularity of Dilbert comics and the TV hit The Office, the old world of cubicles, monitors, fax machines, and water coolers seems to be frozen in time." Ross Mayfield has seen that transition from cubicle to car at SocialText, the company he cofounded in 2001. In the decade since, his product has become a polymath when it comes to collaboration software. Its platform includes "Social networking, microblogging, wiki workspaces with integrated blogs, distributed spreadsheets, and a personal home page for every
user.
One of the hottest places to collaborate these days is likely to be a Cisco telepresence room. Six people interact with six others thousands of miles away with life-size images on three 65-inch, 1080p resolution plasma  screens. You can get really fancy with participants from other locations in a multipoint session with voice-activated switching of
participants on the screens. This product is starting to make a dent in international travel.  Of course, there are times when you want telepresence from the shop floor or you want to "virtually" walk over to someone in one of those
dreaded cubicles who ignored the request to dial into the conference call. HeadThere, a start-up, has developed a videoconferencing robot called the Giraffe that can take you to those elusive destinations.
The old adage "People are our most important asset" still applies. The talent just comes in many different formats, as Charles Handy's shamrock model predicted and polymath enterprises have learned to manage. And increasingly that talent is also part of the new generation of Paul Greenberg's social customers. Learn to do social right—or wrong—and you influence two important stakeholders: your customers and your talent.