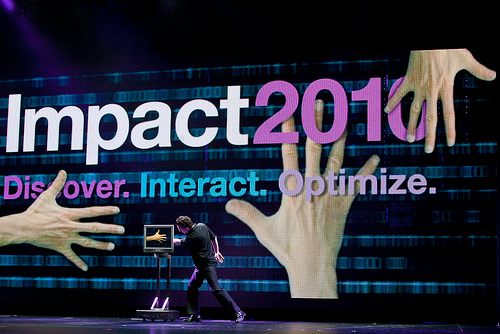 Last week I was at IBM's Impact 2010 – which used to be the company's show for WebSphere customers but is now being rebranded as the "premier conference for business and IT leaders". The business track was not my cup of Lapsong Souchong, but RedMonk is more about geeks than suits.
But did the event rock? Well yes it did. The IBM business partner community was particularly well served. Feedback from the channel session I spoke at on Sunday, about how to make money from the Cloud, for example, was really positive. If partner engagement is anything to go by, IBM is capable of making Cloud into an "IBM play" as much as SOA has been. That means significant market share.
When I hung out on on the floor of the solutions center for sponsers I kept getting amazing quotes about the quality of the event. I captured a couple:
whoa. talking to $client @myeclipseide. Jens says this is the best trade show they've done for quality of leads etc. well done #ibmimpact
and
Part of the improved vibe at Impact versus other tradeshows may just be timing: the customer's wallet is emerging from a period of recessionary hibernation. But its also a testament to a new IBM focus on enabling partners.
Apart from exceptions that shatter the rule such as the IBM iSeries franchise Big Blue has traditionally not been good at partnering with volume ecosystems. Too often the IBM sales organisation has "wandered into" partner accounts and taken them direct, cutting out the middleman. Never a good look in the channel…