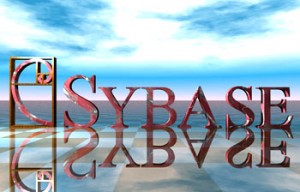 The acquisition of Sybase by SAP has some elements of delicious irony for Sybase watchers. For this is the company that not only shunned SAP and thereby forced itself out of the running as a top enterprise database, but it also the company that helped place Oracle at the number one spot in the SAP database market while simultaneously helping to create the number two contender as well: Microsoft SQL Server.
I was just starting my journalism career when Sybase showed up as the disruptor of the newly disruptive relational database market in the mid-1980s. This was a company that in many ways was able to out-market the nascent Oracle, as well as a few others whose names have since passed on (Informix and Ingres in particular.)
But by the time SAP had become a rising star in the mid-1990s, Sybase was starting to lose its way. And nothing typified that more than the company's refusal to tweak its database to run SAP's R/3.
The issue had to do with security in the form of row-level locking, a feature that was built into Oracle's RDBMS and which SAP wanted Sybase to put into its Adaptive Server DBMS in order to support SAP's R/3. Sybase refused from an engineering point of view to kowtow to SAP's demands, and after a public back and forth about supporting or not supporting row-level locking, SAP's Hasso Plattner publicly blasted Sybase for its obstinacy and slammed the door shut.
With that move, Sybase helped propel Oracle into the number one spot not only in the overall RDBMS market, but in the increasingly important SAP market as well. The long slow slide of Sybase as an RDBMS has-been had begun.
Meanwhile, another big Sybase mistake was setting the stage for positioning a competitor to Oracle as the other top database for the SAP market. The deal Sybase struck with Microsoft in 1987 sounded innocent enough. Sybase would lend its technology and brand – SQL Server – to a desktop DBMS that Microsoft would sell.
Yes, SQL Server was Sybase's brand first. In a deal that would make a great cautionary tale for any Contract Law 101 class, Sybase effectively gave away the brand and launched a product that, after a lot versions that fell short of the mark, eventually became one of the main challengers to Oracle and one of the other major database platforms for SAP.
Fast forward to May 5, 2010, and now Sybase is part of SAP. It's a good move for SAP, and Sybase, and only a small part of that has to do with the fact that finally, 15 years too late, Sybase will be engineered to run the SAP Business Suite. The lack of a major overlap in the two company's customer bases, the ability of Sybase to give SAP its strong mobile capabilities, and the ability of SAP to infuse its in-memory technology into Sybase, all speak for a strong synergy that may rival that of BusinessObjects.
But it's hard to look at this and not see what might have been otherwise, had Sybase's founders been able to see what they would do to the market by unleashing SQL Server and spurning SAP R/3. It would have been a whole other ball game.