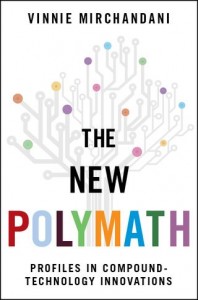 I was excited to see this video around the Microsoft Office and Sharepoint 2010 launch from the NBC Saturday Night Live studio. Not so much around the tactical feature discussions and demos but to see Mark Mastrianni talk about how it fits within GE's larger goals (that section starts around minute 16, and goes through 31).
Mark is interviewed at length as part of the GE case study in my book, The New Polymath, and has been one of the most helpful collaborators through out the book process with introductions, critiques and suggestions.
One of Mark's quotes from the book:
In sector after sector, we find that technology suppliers sometimes lack deep domain knowledge when it comes to vertical technology solutions. That has opened the door for GE Healthcare, GE Transportation and other units to become technology leaders in their markets. We are a multi-billion dollar software and technology company in our own right. When we say aligning IT with business, it also means making these units smarter about what we have learned over the years in IT procurement and contracting. Part of my role is to coach these business units on the unique nuances of technology sales compensation, revenue recognition, IP issues, and other technology industry opportunities and challenges.
The book also features a long interview with Mike Manos (now with Nokia) who helped with the construction of Microsoft's impressive cloud infrastructure. One of Mike's quotes from the book:
The definition of data server computing scale has changed dramatically in the last few years. The discrete unit of provisioning used to be a single server. Then we moved to racks of servers—between 40 and 80 servers. Then we started thinking about containers—2,500 servers worth. When you are deploying data centers with 200,000 servers, you have to think about the efficiencies of shipping, setup, reconfiguration, etc.
Of course, the book also vividly brings out how different things are in 2010 compared to 2007 when the last major Office version was released.  Three other excerpts from the book – related to Google, Zoho and SocialText – show the dramatically changed velocity and economics of market choices and the social impact on Office capabilities :
(Charlie) Wood and his partner, Larry Hendricks, and some contracted help run Spanning Sync, a Web service that bridges content on Apple devices to Google's Calendar and Contacts. The service, which has been rated "5 Stars" on the Google Solution Marketplace, keeps over 40,000 worldwide customers on the right bank of the right river at the right time. But what is impressive is how various tools at Google, many of which are free, allow Wood to pretty much run his business and his life.

Sridhar Venbu, CEO of Zoho " Feature parity to Microsoft Office (and other software) will come sooner than you may think. We provide new updates every month. Cloud software has an intrinsic advantage in terms of speed of evolution. In fact, the comparison I make is between mobile phones versus wired phones.
Mobile phones started out bulky and only had voice capabilities. Today, even cheap mobile phones beat expensive corporate PBX phones in terms of features, with mobility a huge added bonus."

Ross Mayfield has seen that transition from cubicle to car at SocialText, the company he cofounded in 2001. In the decade since, his product has become a polymath when it comes to collaboration software. Its platform includes "Social networking, microblogging, wiki workspaces with integrated blogs, distributed spreadsheets, and a personal home page for every user. Connectors to Microsoft SharePoint and Lotus Connections (from Lotus) are also available."In homage to the PCs that became indistinguishable with cubicles in the 1980s, Mayfield's spreadsheet was developed in collaboration with Dan Bricklin. Bricklin is famous for having codeveloped VisiCalc, the first electronic spreadsheet, while he was a student at the Harvard Business School in the late 1970s.