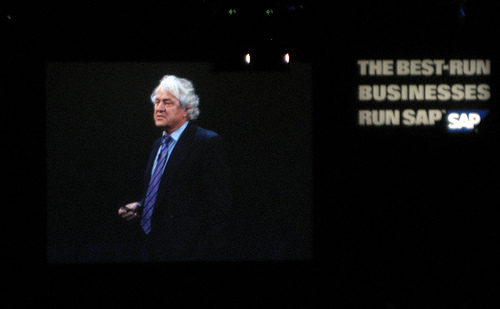 SAP's acquisition target was said to be a head-scratcher. Sybase certainly makes you cock your head a tad.
SAP Buys Sybase for $5.8 billion
Quick, when's the last time you used something from Sybase? Indeed. Sybase is one of those "we're big in X" companies: the claim to fame is always in some category you're not familiar with: finance, SMS services, "the mobile world, but not that whole iPhone mobile world." And, of course, they have their database and BI portfolio.
The losers of the big Relational Database Wars are often in this category: Ingress, Pervasive, etc. Folks who have their own proprietary databases that didn't make it Oracle-big, but managed to limp off the field to sell another day. From their revenues and staying power, obviously they've moved far beyond being losers of a long-forgotten tech "war," and come into being companies of their own right. Typically, each has to find a niche and cement themselves into it.
As Ashlee Vance summed up Sybase's cementing: "Sybase sold about $800 million worth of database software and increased its software licenses 22 percent during the recession."
Moving the Giant
I would argue that timeless software is an idea whose time has come: keep the base stable but innovate at the edges. The most successful businesses are those that best manage the balance between unstructured and structured process innovation. What is evolution, after all, if not an exercise in pace layering?
For SAP, much is being pinned on big-bang, big-dollar buys like this. The by word is "transformative." Most of the "elder companies" are going through some painful disruption at the moment – more cynical folks would suggest that "innovation" was a victim of fat margins on existing offerings and sheer laziness, then the economic crater of the past few years has companies cutting costs, including that expensive "R" part of "R&D." Now with credit back (SAP wired up €2.75 billion loan) and the piles of cash large tech companies have, it's time to spend to catch-up with all those pesky ramen coders and cloud nut-jobs who're stealing customers with good enough, dirt-cheap alternatives.
For lack of transforming on it's own, some would suggest, SAP needs to go out and buy others. Be a real mover and shaker. The insider-prattle is all about the former CEO, Léo Apotheker being ousted some time ago, and the new CEO duo needing to show some earth-shaking.
"I don't know what 'whacko' means."
Certainly, buying a database outfit like Sybase does this. It lets us wildly speculate about injecting innovation into the large ERP company without stirring up too many ABAP anti-bodies:
SAP hates Oracle, Oracle Hates SAP, yet SAP generates around a billion dollars for Oracle each year because many SAP installs need the Oracle database [I swear I read that billion dollar figure somewhere, but haven't been able to find it to link to – it could be baseless -Coté]. Sybase has a database that's mature and old-school enough to satisfy the "it's enterprise-y or nuthin'" approach to SAP software selection. One wonders if a few billion dollars spent on forking and then beefing up MySQL (instead of $5.8B on Sybase) would have enterprised up MySQL and put a larger dent in Oracle. They could call it "Unbreakable MySQL."
Mobile has clearly become a big priority for IT consumers. It has all sorts of benefits to offer: it's not tied to legacy software and vendor relationships, the application workflow focus is micro-task oriented instead of monolithic suite focused, the going rate is $0.99, and so on. The market all but knows it's looking to mobile as the silver bullet to fix how terrible computers are. If the computer is a moron, maybe mobile is the smarter child of that grumpy old git on the desktop and in racks. When it comes to mobile, SAP isn't well known to have much, where-as Sybase is, you know, big in "the mobile world, but not that whole iPhone mobile world." Still, having a foot print in business centric mobile is dandy – coupled with some folks like Appcelerator or Nitobi/PhoneGap (folks who are big, and capable, in the iPhone/Android/Smart Phone app development world) you could argue that the pieces for a comprehensive "mobile strategy" were available to SAP…