Today was a long anticipated day in the most recent chapter of Oracle applications.  Larry Ellison, Oracle's CEO, announced "code completion" of Oracle Fusion Applications in his keynote speech at Oracle's annual OpenWorld Conference.  While Ellison's announcement was much anticipated and has begun to answer many questions, many questions still remain.
How To Interpret Today's Announcements
First, let me congratulate the Oracle HCM product team.  They've had a tough job over the past 5 years walking the line on Fusion while remaining committed to Oracle's existing applications.  As regular readers of this blog know, I have long been critical of Oracle for its lack of transparency around Fusion.  As I have long said, though, Oracle has a great advantage in the market in that they have time, money, and resources…something many other companies lack.  Although this announcement is long overdue, I credit the Oracle team for what appears to be a thoughtful introduction of Fusion.  With today's announcement, hopefully this opens a new chapter at Oracle to be more open with customers and the market around Fusion and other Oracle existing applications.
Although Oracle Fusion Applications are code complete, meaning the baseline products  are complete and in beta testing with early adopters, general availability is scheduled for "next year" (translation…Q4 2010 is highly likely).  A couple of other highlights from today's announcement…
Fusion Applications can be replacement or new.  Companies will not be forced to go to Fusion and will be able to chose what "modules" to buy.
Oracle will continue to support existing applications under its Applications Unlimited program for the next 10 years
Fusion Applications will only be available for customer on PeopleSoft Enterprise 9.1 and Oracle EBS (presumably 12 and above)
Fusion Applications are "SaaS-ready".  Although they did not articulate what that means, I would anticipate Fusion will available for on-premise and hosted delivery model.  My guess is that they will offer a multi-tenant SaaS solution but it will only be available through partners (as SAP does with NorthgateArinso).  I do anticipate, though, their will still be significant work on the end customer side to pull down the new updates and enhancements and actually deploy them.  Not all customers will be on the current version, limiting the scalability and innovation cycle.
Key Capabilities with Fusion Applications include:
Role-based architecture
Widget-like usability
Embedded analytics
SOA framework
Ray Wang from Altimeter Group shares some of the screenshots below.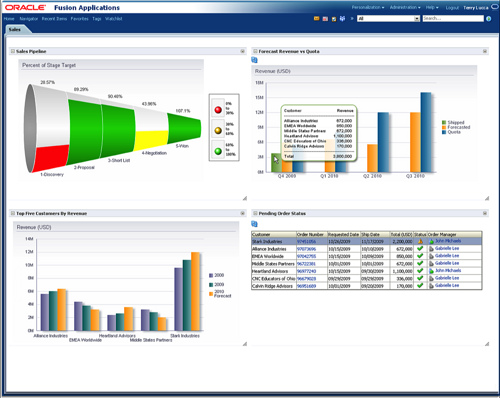 What Fusion Applications Means for Customers
For existing PeopleSoft customers comes the critical decision — do you re-implement to PeopleSoft Enterprise 9.1.  It appears that 9.1 will be the core foundation to which Fusion applications can be built and deployed off.  Since 9.1 was just released, it gives most companies substantial time to begin 9.1 implementation before planning for Fusion Applications.  For the 75%+ of PeopleSoft customers not on 9.0, a re-implement might be the right decision (sidenote…if you chose to migrate to 9.1, please consider process transformation first).
One of the great advantages Oracle has with Fusion is owning the middleware stack.  This is important because as the core system of record, the ease of integration will be critical for both Fusion and non-Fusion applications.  Fusion Applications must, though, have configuration flexibility that has been previously unavailable in existing Oracle applications.
Oracle is not without its challenges with Fusion.  First, most companies will still likely customized their core, non-Fusion applications such as 9.1.  What this means is that even with tightly integrated Fusion applications, those customizations to the core will force many companies significant time for regression and user acceptance testing before any new or updated applications.  For those that remain committed to their existing versions, I would not anticipate any significant functional enhancements as part of Applications Unlimited.  Oracle does not have a recent track record for delivering "on-time".  9.1 has been delayed and my fear is that when the Oracle Fusion Applications become generally available, their will only be a few modules available.
Secondly, Fusion is not a pure multi-tenant SaaS solution.  With the continued commitment around Applications Unlimited for the next 10 years, Oracle will be required to support many products at many customers, creating lots of distraction ultimately affecting their pace of innovation and new functionality.  I would still presume that their update paths (major releases every 2-3 years)  will not change with Fusion.
Lastly, Oracle needs to overcome "field challenges".  Many customers have lost their customer intimacy, particularly PeopleSoft customers, and many of those customers have become disheartened with Oracle's strong-armed tactics around maintenance and upgrades.
Today's announcement will inevitably create waves in the market.  Is this the dagger in SAP's heart?  Many seem to think SAP will not be left for dead and it will be extremely difficult for them to compete against the fortitude of Oracle offerings.  This announcement will also affect other vendors notably SuccessFactors and Workday (BTW…I think Taleo is probably the least affected vendor from today's announcement due to their significant market share lead in recruiting).  For SuccessFactors customers, will their solution continue to be compelling against more competitive and relevant Fusion Talent Management Applications where the core can be much more highly leveraged?  I frankly think SuccessFactors is the vendor most at risk of losing customers that may switch to Fusion Applications.  Can Workday's innovative approach to design, functionality,  delivery and customer commitment continue to outpace a more compelling offering from Oracle?
One thing I do know is that with today's announcement, enterprise decisions have become even more difficult and companies lacking a sound and unified long-term strategy will drown under the organizational complexities of process and technology.
Now that I've shared my comments, what do you think?  If you have any specific questions, please feel free to reach out to me via email or Twitter (@jcorsello).