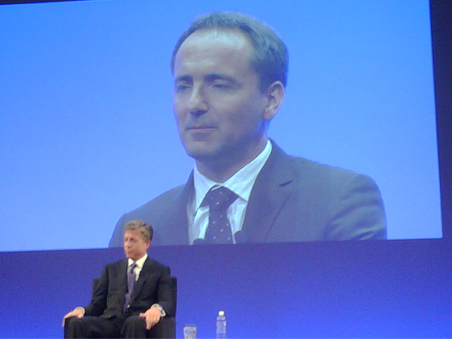 Co CEO's Stabilize The Company
Both SAP Co-CEO's Bill McDermott (Orlando) and Jim Hagemann Snabe (Frankfurt) took stage on May 18, 2010, in a simulcasted keynote.  While Bill highlighted SAP's future vision and commitment to customers, Jim focused on communicating the SAP product strategy to match the corporate vision.  Customers, partners, and influencers sought an understanding of their road map 100 days into their jobs.  The two leaders demonstrated good synergy and gained confidence among the attendees.  In addition, CTO, Vishal Sikka took stage and asserted his role as the technologist.  Some of the main messages from the keynote include:
Articulating acquisition strategy in key themes.  Bill McDermott discussed three key themes for SAP: real time, unwired, and sustainable.  Each of the themes tied back to a changing shift in industry trends on business requirements and shifts in customer adoption.  Each of the themes reflected a revenue stream for SAP.  A global energy concern CIO expressed, "We've been waiting for SAP to get mobility to work.  We can't wait to see mobile field service become a reality in our sustainability initiatives"

Point of View (POV): While the themes accurately describe SAP's direction, the crafting of this strategy seems reactive.  In fact, it appears that this strategy builds on past acquisition decisions not concerted proactive strategy.  The good news – each of these trends represents the hot issues of the day and have finally been articulated together.   For example, real time addresses Business Objects, unwired ties back to Sybase, and sustainable supports Clear Standards.  Despite whether the strategy makes sense reactively or proactively, it does set the future direction for SAP.
Providing choice in deployment options.  SAP plans to offer customers choice in on-premise, on-demand, and on-device.  On-premise remains the same with new enhancement packs (EhP) adding additional capabilities.  On-demand offers both a suite offering in Business By Design (ByD) and point solutions in the On-demand offerings.  On-device will include the Sybase capabilities such as mobile CRM.  The ERP director of a large high tech manufacturer noted, "We'll be deploying a two-tier ERP strategy for subsidiaries and SAP now makes the short-list with ByD"

Point of View (POV): Jim Hagemann Snabe's demonstration of Sales On Demand through the iPad highlights the convergence customers face going forward.  Choices in deployment options and platforms will guide customers on what to buy from SAP.   Users may face SAP to SAP scenarios, SAP to heterogeneous SaaS environments and complex hybrid deployments. For SAP on-premise to SAP on-demand scenarios, users will find a dependency requiring an upgrade to EhP 5 for more seamless integrations.  Others will turn to SaaS integration players such as Boomi, Informatica, SnapLogic, and Pervasive…