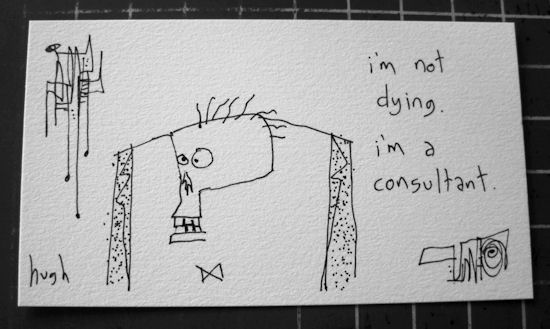 My friend Hugh Macleod lives in Alpine Texas. He is a cartoonist and inspiration. Being in Alpine has given him enough isolation to turn the inspiration into work. One of his new shticks is business cards for selected influencers, pushing the social object angle. I made the list! I made the list! So now what?
What's a social object? Something that draws people into the conversation, which draws them into the service, which draws them into the web that any good businessperson spins.
I say business cards is a new shtick. But of course its not. Hugh is famous as GapingVoid, "cartoons on the back of business cards". He used to doodle on the back of his cards from a NY advertising agency, as a nice little conversation starter to go with a martini or four.
"You like my cartoons? Great – lets talk about 'em once you get your tongue out of my mouth."
Hugh is a renaissance man…