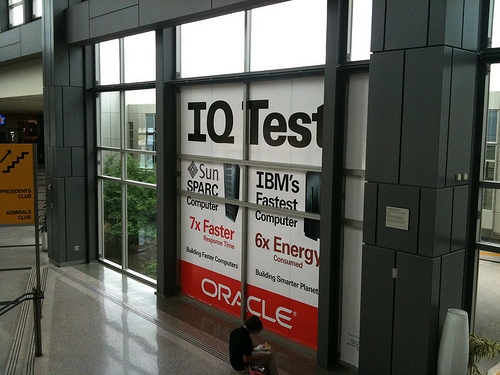 While we "don't do numbers" at RedMonk, I come across many interesting numbers each week. Hare are some:
Last week in conferences by attendee estimates
For the full year [of 2009], [CSC's] revenue was $16.1 billion (compared to $16.7 billion for the previous year)

…

The breakdown of the $4.3 billion of new business awards in the [fourth quarter fiscal 2009] by our three lines of business is as follows: North American Public Sector (NPS) contributed $1.4 billion ($7.1 billion for the full year), Business Solutions and Services (BSS) reported $0.8 billion ($3.4 billion for the full year), and Managed Services Sector (MSS) closed $2.1 billion of new business ($8.7 billion for the full year).

…

For fiscal year 2011, the company anticipates bookings in excess of $18 billion, revenue in the range of $16.8 billion to $17.2 billion (an increase of 4% to 7%) and operating margin between 9% and 9.25%.
The recovery board expects to save about $750,000 over the next two years — $334,000 this year and $420,000 in 2011 — by running Recovery.gov on [Amazon] EC2. This represents about 10% of the total $7.5 million the board has spent overall on the site so far, including development costs. "Significantly" more savings are expected over the long term, according to the recovery board.
Mainframe-land: What types of application do you host on-premise?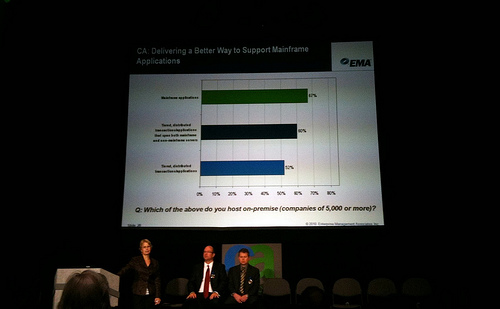 From a CA World 2010 press Q&A, featuring some research from EMA answering the question (my wording) how much of your applications still need mainframes?:
Mainframe only – 67%
Distributed/mainframe hybrid – 60%
Just distributed – 52%
For those not in raised-floor land, "distributed" means "not mainframe" – x86 and UNIX hoopla, man.
Ninety-five percent of top-performing organizations [out of 1,541 CEOs, general managers, and senior public sector leaders from 60 countries and 33 industries worldwide surveyed by IBM] cited getting closer to customers as their most important strategic initiative for the next five years, using Web, interactive, and social media channels to rethink engagements with customers and citizens
26% of the video on the Web is iPad-ready, according to Mefeedia, a firm that supposedly monitors online video around the Internet. You may think that's low (that means 74% of the web can't be seen on the iPad), but that number actually represents a good amount of growth, as just a scant few months ago, only 10% of Web video was iPad-accessible, or encoded in H.264 or HTML 5, not Flash.
The good news for Google's Android operating system and devices continues and as the latest Gartner research data shows…