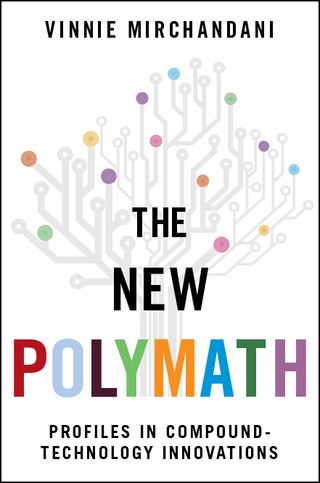 Fellow Enterprise Irregular and a great friend Vinnie Mirchandani is coming out with a new book :The New Polymath – Profiles in Compound-Technology Innovations, due for release last week of June 2010. He shared an early review copy with me for my reading – what a pleasurable and stimulating read it turned out to be. I was impressed with the theme of the book , the very powerful examples therein ( who won't be impressed to look at the striking success of the likes of Apple, Google, General Electric and scores of others in other industries in a new light) and the recommended practices therein.
The present era of mankind is seeing lot of excitement and promise all around. Around the world, everyday in our lives bring lot of changes – fast , unpredictable and may times we have to struggle hard to understand what the change stands for. Globalization, Technology has transformed the playing fields across continents, industries and sectors. Very powerful forces of change have shaken the beliefs in many aspects of governance and social thinking. Fortune 500 companies list is changing faster than the fast pace that we have seen in the past. Powerful brands have suffered huge damages and many industries have gotten transformed substantially so much so that many successful leaders today claim their business need to adapt and transform faster than ever. Leading edge corporations run faster in this direction to ensure that their rate of change inside is ahead of the change seen in their external environments. Looking at these developments, its clear that the time to re-imagine the future is now, and it is best done by a fresh school of thought that governs our thinking frameworks to enable a fundamental rethink and envision what is desirable and sustainable.
Now about the book: What does the term Polymath mean? Vinnie explains, "Polymath," as in Greek for someone who excels in many disciplines, like Leonardo da Vinci, who was an artist, sculptor, architect, and so much more,
Isaac Newton, the English physicist, astronomer, and philosopher, and Hypatia of Alexandria, who was a mathematician, astronomer, philosopher, and teacher
Ben Franklin – author, journalist, scientist, inventor, political philosopher and statesman. In this book, Vinnie focuses on Polymath enterprises, who are setting out a strikingly successful path in business.
Vinnie, the quintessential polymath as defined in the book, starts by observing that for the most part today, most of us seem to specialize and highlights the fact that we are monomaths in a world of exploding knowledge and passionately argues for more and more polymaths to be nurtured both at the institutional and at personal levels. (Being a monomath is a direct teaching of many management thinkers of recent era – for example, as recently as in the last two decades, Jim Collins adopted Peter Drucker's thinking and brought out in his book "Good to Great" that leaders need to think and act like hedgehogs , not foxes. Hedgehogs are more like monomaths and foxes are more like polymaths ). With monomaths around, Vinnie argues that many ecosystems are going through a phase aka the dark ages, where there was plenty of living, but there was little forward movement in terms of progress. It was defined by its relative "nothingness". Drawing a parallel to the current time, he points out, in the information technology, there is lack of nutrition—so much of the spending is wasted. In sustainability, there is lack of agreement—there are so many rancors in spite of so many global concerns. In health care, it is about lack of availability—so much of the world does not have access to all the advances in technology—or even basic health care. The core of these problems Vinnie argues amongst others centers on monomath thinking and execution.
At the same , Vinnie brings out the modern day success stories of polymath enterprises and individuals and argues that in them he sees the potential to capitalize on the promise that future holds for business and mankind. He succinctly points out to the fact that well-designed enterprises are taking individual monomaths, leveraging a wide array of technologies and becoming the new polymaths. The good news is that as in the European Renaissance, there are plenty of polymaths that are around. Though a lot of attention these days seems to go to innovation in mobile and social technologies, plenty of complex, hairy "industrial innovation" is also going on. This is encouraging because we face a daunting series of challenges at the global, enterprise, and individual level. We need polymaths to help deal with a range of challenges – big and small, of various size and structures.
Let's looks at the new business that are shaping many emerging industries – The successful enterprises spanning established corporations to upcoming start-ups—are creating incredible value by succeeding in a new way: by bringing together various streams of technology (biotech, cleantech, healthtech, infotech,Nanotech etc) to create new form of processes, products and services to create value . These are the poster child of Vinnie's definition of the New Polymaths.
What I see in the book are a rich set of examples and metaphors that talk the story of entrepreneurs, business leaders, and multinational companies innovatively leveraging technology to tackle big problems, "grand challenges," related to health, hunger, and natural disasters—and, of course, information technology. In their own ways, these big and small enterprises in their spheres of influence are reshaping the world . Vinnie highlights that examples represent a range from a triangle to an eight sided octagon to a ten sided decagon to a twenty sided icosagon to a 50 sided pentacontagon! The "more-sided" polymaths are trying to solve the really big, hairy problems. The "fewer-sided" ones are a bit less ambitious, but they are helping us run our enterprises and lives much better. The book rightfully brings out the range, recognizing that we need a variety of such forms of organizations.
The easy to read book is structured into three parts :
Part I sets the stage for the challenges of today and opportunities for polymaths of today and profiles GE, a new polymath.
Part II is organized around an acronym—R-E-N-A-I-S-S-A-N-C-E—each letter of which discusses a building block for the new polymath to leverage.
Part III is focused on how helping you groom your own new polymath. It profiles the BP CTO group, its tools and processes, and its vast ecosystem of innovation ideas, besides bringing together common threads from the seven other polymath profiles and the 11 building blocks
Leaders who disrupt to succeed in business need a framework to navigate their way and Vinnie provides that through his key building blocks of the R-E-N-A-I-S-S-A-N-C-E framework (each letter is a chapter that discusses a building block for the New Polymath), we learn about 11 key ideas: Residence; Exotics; Networks
(Bluetooth to broadband); Arsonists; Interfaces; Sustainability; Singularity;
Analytics; Networks (social); Cloud Computing; and Ethics. He further brings in the ethics dimension and urges integrating this into the warp and weft of innovation that the Polymaths unleash. This is a nice read explaining the need for these changes and how to effectively leverage them for success.
Do all these things thing look theoretical? – No way!. Look at the rich examples that Vinnie is parading: Apple, Google, Salesforce.com et al… Marc Benioff in the preface to the book captures this very well.–"Being a Polymath isn't that difficult—and it always yields multidimensional rewards". One of my favorite in this book is the chapter on steps to becoming a polymath – and the book lays out the key steps to becoming a Polymath enterprise.
Vinnie's closing comments captures the essence that if we add up all the personal interests and skills that do not show up in job descriptions, there are plenty of other modern-day, mainstream polymaths and urges business to craft the right blend of monomaths that can lead to running successful polymath enterprises. And that we need these polymaths to solve the world's wicked problems that Aristotle and al-Tusi and Jefferson never even imagined. In Vinnie's dream, in such a world, Michelangelo would propose a toast to the uomo universale, the Italian term for polymath, and invoke his contemporary, Leon Battista Alberti: "A man can do all things if he but wills them."
When In Search Of Excellence got published in 1981, it was a time when every good business idea seemed to be born in Japan, and most did not appear transferable to the United States. That's the time, Tom Peters & Robert Waterman, the authors of the book examined several successful American companies and detailed readily transferable attributes shared by most of them. It helped American executives look into the mirror and see that some of the things they were doing were not bad at all, that others were excellent, and that they could borrow excellent ideas from each other. That, in turn, paved the way for many wannabes to create successful business. With the examples showcased in The New Polymath, Vinnie is again demonstrating the extraordinary ways in which the New Polymaths of the American business are winning in the international arena – he tops it by laying a robust framework for others to get there. When we extend these concepts to new strata – the likes of the emerging world, the non profit institutions etc. the results shall turn out to be much more significant. A very important reference book for business, entrepreneurs, management students and all professionals who dream and are working to create a better world.