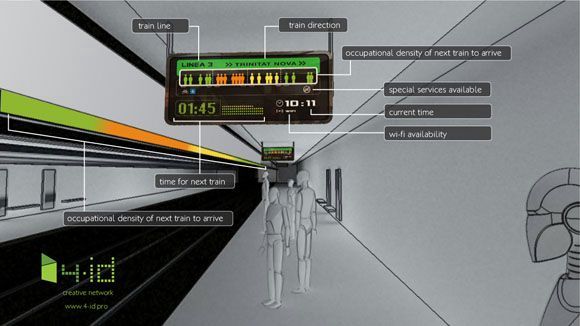 Stewart Mader blogs about 4-id creative network, a Barcelona-based transportation design firm. They've created a system that helps you figure out where the best place to board a subway is in order to find a seat. He picked it up from 2nd Avenue Sagas a blog devoted to, yes you guessed it, the NYC Subway system (with an homage to the painful construction of the 2nd Avenue Subway here in NYC).  I digress. Anyway, the system they have proposed, scans subway cars using imaging sensors placed inside train cars or "artificial vision software
applied to existing security cameras" to highlight which areas of the train
are emptiest and which still have seats. Holy Fare Increase Batman!!! I wonder if NYC's Metropolitan Transportation Authority could see it's way clear to actually applying technology to some of the most painful problems its ridership faces.