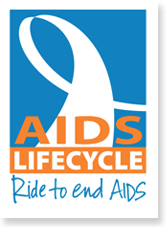 I got an email this morning from a friend, a friend I thought I knew pretty well yet what I didn't know is how dedicated he is to helping a worthy cause – a cause I had never even heard of. Last year during my 1st 24 Hour marathon I asked everyone to do their part and this year during my 2nd 24 Hour Marathon Michael was there doing his part with me and now he's preparing to do something good for others as well.
in 2003, I found an AIDS LifeCycle flyer in a local San Francisco restaurant. I heard of people who did this ride before, and was curious. Having just gone through a pretty stressful period in my life, I decided to look for a challenge and signed up. It was a very profound experience, and today I need your help to keep the spirit alive as I'll be participating in the event the sixth time.

People participate for many reasons; for me it's my opportunity to do something good and combine it with a mental and physical challenge. Normally, when I go on a vacation, it takes me a few days to immerse myself in the new environment and let go of work. During ALC, the experience puts me into a different mindset right away. It's this sea of humanity that I'm part of and that collectively moves forward on the journey from San Francisco to LA, all for one combined purpose to raise awareness for HIV and AIDS.

On the past events I had lots of time to think about the purpose. Of course, you could argue that the AIDS crisis in its epidemic proportions were thousands of people were dying is over. Progress in medication has helped people to stay alive and treat HIV like a chronic illness. However, the impact on the psychology of people is still profound. There is still stigma, and even if there is a supportive environment, can you imagine what it means to not be able to be close to your husband, wife or significant other for a lifetime ?
This will be his 6th time supporting this worthy cause and this time I'm going to support him as well! I was checking out the website, and how it all works and to better understand how they manage a bike ride from SF to LA which is no little distance!
AIDS/LifeCycle is a fully supported, 7-day bike ride from San Francisco to Los Angeles, June 6-12, 2010. It's a life-changing ride—not a race—through some of California's most beautiful countryside. AIDS/LifeCycle is co-produced by the L.A. Gay & Lesbian Center and the San Francisco AIDS Foundation and is designed to advance their shared interest to end the pandemic and human suffering caused by AIDS.
All of this of course reminded me of another friend who used his bike to help others as well – Thomas Otter. Amazing people all around me! Now it's Michael's turn so with his email this morning he managed to capture my attention, maybe this blog will capture yours?
I'm just a week away from participating a sixth time in a bicycle ride from San Francisco to Los Angeles, AIDS LifeCycle, benefiting the San Francisco AIDS Foundation. Usually, by this time I would have done at least a thousand miles in training and take the week off biking to relax and recover my body. Unfortunately, this year has been totally different, and makes me feel a little bit like 2004 when I did this ride the first time. I have no idea what is going to happen, because I have hardly touched my bike in the past 6 weeks due to events that for whatever reason all happened at the same time. I need your moral support, but also the San Francisco AIDS Foundation needs your financial support. For information how to help, go to http://www.tofighthiv.org/goto/MichaelBechauf.
Well Michael from thousands of miles away I'll be thinking about you and rooting for you! I'm also looking forward to hearing how it went when I arrive the following week!