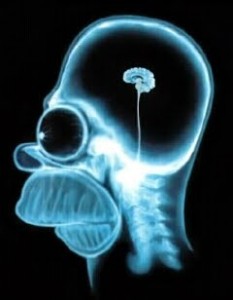 Apologies to Nick Carr for mangling the title of his new book, but every since I spent time in Niskayuna, NY in January I have been puzzled. I had visited the GE Global Research Center as part of my research for my upcoming book, The New Polymath. I was blown away by the wide range of innovation (excerpts here) the scientists there were working on. Complex, compound innovation to solve many of our Grand Challenges.
But as I left and checked on the Twitter Stream from the Center's blog (appropriately named Edison's Desk) I was shocked to see only about 300 followers (it has since crept up to 450). 1,800 scientists, most Ph.Ds in every discipline known to man can only muster such a small following?
In contrast, I am staggered how much of my Twitter stream, blog reader, email every day is filled with vendor this and vendor product that, most of it extremely banal. It spikes whenever a major vendor has an industry event or product launch. Yes, I am just as guilty for adding to that torrent when I go to events like Sapphire or OOW. And worse, the majority of the noise is around  consumer and social products – truly "light" innovation compared to what is happening in Niskayuna.
Abbie Lundberg former editor of CIO magazine in her review of my book blames it on consumer tastes and Wall Street.  "As long as consumers demand and will pay for the next new advance in entertainment and convenience and stockholders demand the greatest possible returns, that's where the innovation focus will be …