For those who have been working in the social computing sphere the last few years, either externally or internally, it's become abundantly clear to us that all business is becoming Social Business.
For the rest of us who aren't there yet, major change is still evident: The Web itself has become pervasively social as we've changed both the behavior and expectations of our private lives around so many of the ways that we relate to one another. This includes how much (more) we share information now, actively try to build social capital and our personal brands, as well as how we value others. But make no mistake, we are each still learning much about our newfound ability to directly influence the entire world from our tiny corner of it. The incredible leverage that each of us now possesses in the form of social tools is one of the most potent forces in the modern world.
If the pen was mightier than the sword, social computing is perhaps on an entirely new plane of existence. It has been used in everything from the real-time coordination of escape from natural disaster to permanently archiving genocide so that the perpetrators are held accountable. For businesses, it has revolutionized everything from product design and customer service, to operations.
By a good many measures, the writing is now clearly on the wall about what is happening today: With the data showing, for example, that the reign of e-mail is already over in the consumer world, can (and should) businesses be far behind? In fact, this year we are seeing the broadest changes yet in the way that social tools are being applied to business problems. While social media marketing and customer communities continue to be very hot topics in enterprise social computing, the discussion (and real-world practice) has evolved well beyond these initial activities that were common early adoption focus areas. Organizations are beginning to more deeply understand the ramifications of a highly social enterprise environment and they are beginning to see evidence that their efforts are actually fragmented elements of a bigger picture.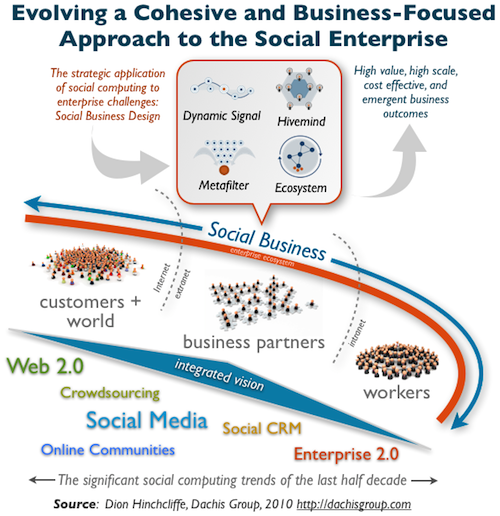 Social Computing + Business = Value Creation
For its part, the business world has begun to wake up to the transformation that is now happening all around it. Decision makers are now carefully weighing the potential benefits of transformation to new modes of work, with the costs and perceived risks. Many of the early social computing efforts that took place in many organizations have gone on to either 1) encountering some of the travails and benefits of genuine change or 2) learning enormously important lessons as they evolve and mature, or both. More importantly, there is now a sober realization that these early experiments and initiatives must turn into serious endeavors that produce results that scale and produce abundant business value. This is not not due to a sense of justifying the work already done, but that the full ramifications of social computing has increasingly serious competitive ramifications.
But the job of aligning an organization with social computing is not an easy one, if it ever was.
Consider the following scenario: You are tasked with sorting out, reconciling, and making sense of your various social computing efforts. You will typically have several online communities, a massive Sharepoint implementation, both a Facebook and Twitter engagement effort, an internal social network, several crowdsourcing projects, a microblogging platform, and multiple social media marketing efforts. All of them engage the same three audiences: customers, partners, and/or workers. But all of them have different owners, strategies, tools, teams, policies, standards, goals, and priorities. Most of them overlap in some way. The solution probably isn't to combine them. (Not only do legacy efforts add challenge, but the most transformative phase of social computing transformation often isn't represented by them.)
A better solution is to understand and manage them strategically using a consistent and cohesive approach. And one that doesn't treat each one in isolation, for they are mostly aspects of the same thing: The intentional creation of a dynamic business culture that directly empowers all of its constituents to better create and exchange value.
I would put forth that it is having both consistency and a cohesive approach towards this goal that organizations are beginning to realize they are lacking. Without it, there is considerable likelihood that you'll leave much of the potential value untapped and lose the opportunity for market leadership in your industry. As we are starting to see, the big picture here is much more than (just) team collaboration or incremental improvements to the way we market our products or provide customer service. There are order-of-magnitude operational business improvements to be had that will change the very way we run our businesses in the process.
As I explored in detail recently, this bigger picture is increasingly being called Social Business, and consists of the various threads of effort that business have gone through over the last half-decade, such as online communities, Web 2.0, Social Media, crowdsourcing, Enterprise 2.0, and Social CRM.
The Five Value Propositions for Social Business
To address the eponymous title of this post however, let's ask what, specifically is the value that Social Business provides as a meaningful and enterprise-class framework for social computing:
Identification of the fundamental archetypes. What are the essential aspects one must cultivate for a successful Social Business effort, whatever the audience, mode of interaction, tools, etc? In our view, there are four classic archetypes. These are:

Dynamic Signal, which represents real-time social interactions and analysis like posts, Tweets, activity streams, feeds, aggregators, etc,
Ecosystem, all the functioning elements of a functioning Social Business environment
Metafilter, the ability to connect the right information in the ecosystem with the right audience, when it's needed, and;
Hivemind, the collective awareness and intelligence of a Social Business community both in its totality (all participants, everywhere) and all constituent subgroups.

Consistency and cohesion across Social business strategy and implementation(s). While Social Business will always manifest itself as many individual efforts in an organization, now there is a way to attain intellectual and business mastery of the forces and their orchestration at a management level. Social CRM and online communities facing the public are indeed different from internal Enterprise 2.0 collaboration efforts, but not only do the archetypes begin to reveal their core commonality, they allow them to be treated the same way when it comes to building shared value, extracting knowledge, and operationalizing the results as part of the business. They can often be a primary revenue generator in their own right.
Cost savings and efficiencies. While many organizations are already understanding the business value of factoring out commonalities and centralizing them, it's been hard to do up until now until the larger picture was well understood. This is now starting to be possible in a significant way with Social Business, from social media policy to community management.
Repeatability and lower barriers to adoption. Different parts of the organization don't have to completely reinvent the wheel with their Social Business transformation, but can build upon much of the strategy and implementation work that has come before it.
High success rates and lower risk profile Because much of the work around issues involving legal, HR, branding, governance, and other horizontal business concerns are addressed broadly and up front, Social Business efforts will have better chance of a high value, high scale outcome with less risk.
I'll be exploring Social Business in-depth this year here and elsewhere as the concept continues to mature. Please contribute your thoughts below along with any concerns about yet another term for what we previously termed Web 2.0, social media, etc. Now is the time to discuss how all of this is becoming a standard way of doing business in our organizations. You can also read our white paper on Social Business Design.