Cross posted on my Gartner blog.
As some of my readers know I'm a keen but slow amateur cyclist. It is a sport that doesn't really lead to flexibility, the opposite in fact. I need to stretch if I'm going to have any sort of suppleness, so I have made a conscious decision to stretch a lot. (Thanks Graeme)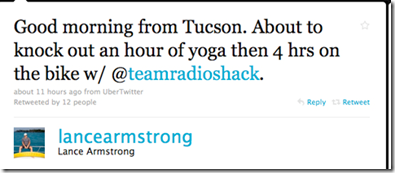 I'll admit to doing yoga poses while on client phone calls. Nothing like a tree or butterfly pose to focus the mind while discussing ERP upgrades or SaaS talent management vendors.
In my ever widening search for obscure metaphors, it seems to me that enterprise applications are a bit like cyclists. Unless they get stretched regularly, they loose their suppleness. They become rigid, which eventually undermines performance.
So many ERP and HCM projects start with good intentions. The project drives change, and then you go live. Then you stop stretching.Things ossify.
Can your system still touch its toes?
Do you have people in your organization who can help the systems flex or do you need to get in expensive SI resources to make changes?
How easy is the product for business experts to configure?
How can you easily test configuration changes?
More than these though, get over the idea that going live is the end of change. It should simply be the beginning.
Some of this is about the inherent suppleness of the technology, but even the most flexible technology turns rigid if you don't embrace continuous change. Get that mat out.