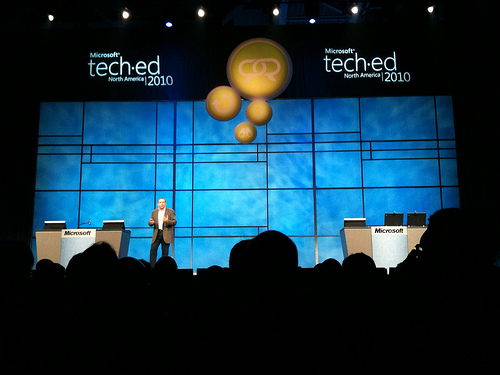 Microsoft is clearly "all in" when it comes to cloud computing. While they've been dancing around the topic for awhile – having to unplug their head from the previous bell of data-center, virtualization – this week's TechEd in New Orleans was like they swept everything else off the table and focused on that one world: cloud.
"The future, where we all shall live," aka, The Cloud Transformation
As with practically all elder companies (if not all), most of the cloud talk is about how IT must change to take advantage of cloud computing. Though it may seem opportune, Microsoft's Dynamic Systems Initiative (DSI) doesn't require too much square peg in round hole shoving to match up with the emerging vision and practices for cloud computing. DSI (in year 7 or a 10 year plan) has mostly to do with modeling and virtualization, a sort of Microsoft go at IBM's forgotten Morlock utopia, Autonomic Computing. (See more extensive DSI coverage from my Microsoft Management Summit 2007 write-up.)
In true Microsoft form, the technical details of The Cloud Vision were much more in-depth than, most recently, CA Technologies at CA World, IBM's nearly 2 years speaking to the cloud, and other elder companies who've quickly realized they need to get on this cloud thing.
Much of this future of IT with your buddy the cloud business was just that: in the future. Time to start thinking now, planning for, it's real, bub. Thankfully, unlike CA Technologies, there wasn't (too much of) the all to easy call of "if you don't start doing cloud now, you'll be sucking your competitors dust" from Microsoft. There was some good tying together of assets into a vision-y road-map that could lead to cloud-as-tool for IT, including nice slide-integration and demos with the recently acquired Opalis (coverage).
When it comes to products, most elder companies have little to show in cloud. CA Technologies quickly bought itself out of that problem, where-as IBM has been trickling out offerings, most recently with dev/test QA labs, following the path of virtualization adoption. Microsoft, of course, has one, big, real cloud offering…
Azure
(Above, a RedMonkTV interview going over Azure at MIX 2009.)
Thus far, Microsoft's offerings have centered around Microsoft Azure which emerged from a much followed beta period back in February. The overall industry sense is that there's some uncertainly and otherwise quiet around Azure: you don't hear about it much. Despite this, as one Microsoft executive told me there were 1,000's of customers: indeed, there's over 10,000.
One part that people tend to overlook (probably because they're not reminded enough) is that Azure runs not only Microsoft's own technologies, but also Java, ruby, and python. While they (unfortunately) didn't speak to this heterogeneity to the larger audience (e.g., in the first day keynote), in settings with analysts execs very quickly spoke the mantra of "we love .Net, we love Java, we love ruby" and all that.
SQL Server – learning how to run in the cloud
Of all Azure offerings, SQL Server for Azure seemed to have the most to announce. Indeed, during an analyst session Microsoft's Dave Campbell gave an unusually excellent talk on the lessons the SQL Server team had learned going cloud (see some select slides above). As Campbell called it, the team went through "The Cloud Cauldron" and learned that their initial ideas of how easy it would be "port" SQL Server to the cloud (and enable AppFabric-y use) were pretty much way off.
It turns out, a lot of work was needed to get SQL Server into Azure. It's not often – in fact almost never – that the trade-mark smugness of Microsofties is brought down this often. As a result, the session was interesting, but more importantly, it left you with the sense that Microsoft had actually learned how the cloud is different and applied that learning to their technologies.
Check out the RedMonkTV video interview from last year's MIX on hooking up SQL Server in the cloud for more:
Application Cloud Migration & Cloud App Development
As I outlined when talking with Microsoft Prashant Ketkar, I see two great scenarios for Azure usage:
Moving "under-the-desk data-centers" to the cloud – the Microsoft development stack plays well in the line of business, custom application space. Typically, small, in-house teams develop these applications and because they're not "mission critical" are run on machines under someone's desk, or virtualized into the datacenter somewhere. Running these on-premise is annoying after while and Azure should provide a nice, hopefully cheaper and even more robust, place for them to run. If one day Azure gets functionality to simply move Hyper-V guests up to Azure instance, this scenario is a no-brainer.
Regular cloud-based application development – Azure provides an ever growing PaaS stack to deliver on the "classic" desires for cloud computing. The easy availability of the LAMP stack on the web was arguably one of the top reasons Microsoft "lost" so much of the web development world (though, it'd be interesting to see contemporary stats on this – IIS vs. Apache httpd, I guess). If Azure made using the Microsoft stack as easy as getting ahold of a LAMP stack on the web, Microsoft has a better chance of re-gaining lost web share and starting out on a better foot in the mobile-web space (aside from anything having to do with Windows 7 Phone).
In the discussions I had with various Microsoft folks, I didn't see any reason to believe Azure was doing anything to preclude these two scenarios. Indeed, when it comes to moving under-the-desk data-centers, Microsoft keeps saying they're working on it, but hasn't yet given a date.
As a side-note, while Amazon is often seen as just "Infrastructure as a Service," they actually offer most of the parts for a PaaS: AWS's middleware stack is broad. The distinction between a PaaS and an IaaS gets a bit murky – though a cloud taxonomist can make it as clear as an angle's feet on a pin-head. I bring this up because Microsoft always does a good job of blurring the easy comparison touch points, so it's worth pondering the positioning of Azure as a PaaS vs. IaaS against other clouds.
Private Cloud
Windows Server and Hyper-V are very much structured to be able to build your own private cloud, absolutely. The area where we see probably the greatest set of evolution happening is in System Center, and let me give you some examples. We will evolve System Center to have capabilities like self-service so that departments, business units within an organization can provision their own instances of the cloud to really virtual machines within the cloud to run their own applications.
The question of when Microsoft will come out with a private cloud came up many times, and the question specifics were deftly evaded each time. The most detailed "answer" came from Software and Tools Business leaver, Bob Muglia. At analyst "fireside chat" during the Software and Tools Business analyst summit, Peter Christy asked Muglia about private cloud offerings, suggesting that it was a requirement for many enterprises who wanted to avoid moving out of their data centers.
While there was no comment on private clouds, per say, there was much to say on how cloud computing innovations could be applied to existing IT and offerings. There were several areas to separate out.
Muglia responded that, first, you have to separate out enabling IT to deliver their offerings as a service to their internal customers from what we'd normally call cloud computing. That is, there's plenty of learnings and technologies to take from cloud computing that make automation and self-service IT better for companies, regardless of if you want to call it "cloud" or not. This is where the immediate use of cloud-inspired technologies comes in, and where I'd expect to see offerings from Microsoft and others to simply further optimize the way good old fashioned IT is currently done. Really, it's the continuation of virtualization (which is still far from "complete" for most IT) mixed with renewed interest and innovation in self-service and automation: runbook automation and service catalogs that don't suck, to be blunt.
Then, Muglia said, Microsoft is "looking at" offering something to service providers who want to do cloud like things with Microsoft technologies. Windows is everywhere, the strategy would go, and as partnerships with Amazon show, enabling the running of Windows and Windows Server on various clouds is helpful.
Finally, there was some discussion of delivering features vs. services vs. "private cloud." Here, the segue was into discussing Azure AppFabric.
AppFabric is a service bus that spans firewalls into the cloud. It's a cloud/on-prem hybrid messaging queue, more or less. Maggie Myslinska, PM for AppFabric gave excellent overview session.
There are other "features" and services delivered over the Internet that fit in here, such as the old battle-horse Windows Update and the newer offering Windows Intune.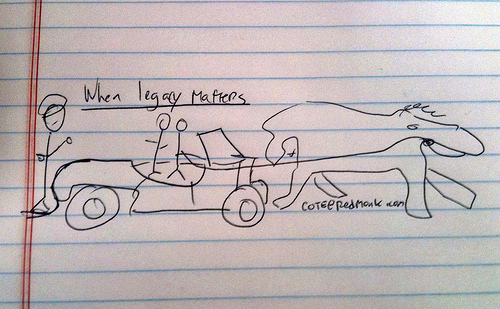 But, when it came to a private cloud, there was almost a sense of "that's not really what you want," which, really, tends to align with my more long term opinion. But, I wouldn't write-off Microsoft doing a private cloud: